FOR IMMEDIATE RELEASE 
April 8, 2015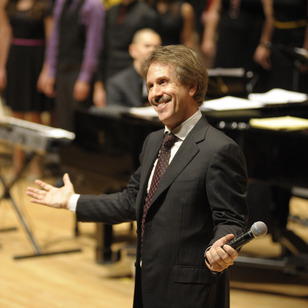 BLOOMINGTON, Ind. – The Indiana University Jacobs School of Music will host a musical  celebration of the life and legacy of Stephen (Steve) Zegree, Pam and Jack Burks Professor of Music and director of the IU Singing Hoosiers, at 4 p.m. on Sunday, April 19, in Bloomington's Musical Arts Center.
Zegree, internationally recognized as one of the most respected vocal jazz conductors and educators in the world, was born on May 5, 1953, and died on March 7, 2015, in Bloomington.
Students, colleagues, friends and family are invited to attend the event, "Steve Zegree: A Celebration of Life." Convenient, free  parking available in the Jordan Avenue Garage.
Out-of-town guests may reserve rooms at a discounted rate at two Bloomington hotels, Holiday Inn and Hampton Inn. Get more information.
In addition, people are invited to leave their thoughts and remembrances of Zegree at the memorial blog created for him by the Jacobs School.
Known as "Doc" to many, Zegree was internationally respected as a giant of vocal jazz conducting and education as well as being a gifted pianist, arranger and producer. He was the Pam and Jack Burks Professor of Music at the Indiana University Jacobs School of Music, where he was director of the Singing Hoosiers and the award-winning Vocal Jazz Ensemble I.
Prior to joining IU three years ago, he was the Bobby McFerrin Distinguished Professor of Music at Western Michigan University, a position endowed by McFerrin in recognition of Zegree's exceptional talents. In his 34 years at Western, his singing group, Gold Company, toured the world, performed at Carnegie Hall and Lincoln Center several times and won almost 50 performance awards from DownBeat magazine. Zegree himself was selected for the DownBeat Jazz Educator's Hall of Fame. Known as a demanding and inspiring teacher, he was a man of great wit, good humor, kindness and exceptional passion.
Born in 1953, the son of Thaddeus and Lili Zegree, he spent his childhood in Washington and California. He was a musical prodigy, playing the piano with his father from the age of three. By the seventh grade, Zegree had organized and led a group of older boys in a garage band, The Zigs, that played at school dances and clubs. His first piano teacher, Helen Lackey, was prescient in allowing him to stray from the classical training traditions, thus engaging his interest and keeping him at the piano. He went on to receive degrees and a doctorate in piano performance and choral conducting and was a Steinway Artist. He served on the selection committee for the Gilmore International Keyboard Festival. In addition to his full engagement in conducting and teaching, he continued piano performance with symphony orchestras and national Broadway touring shows, in solo concerts and for 34 years with the Western Jazz Quartet.
Zegree credited his older sister, Joan, for introducing him to jazz very early on, though his love for the classics—especially his parents' beloved Chopin—remained with him throughout his life.
His inquisitive spirit, immense talent and professional drive led him to conducting and teaching gigs at major jazz festivals, international vocal conferences and symposiums, and performances with such luminaries as The Manhattan Transfer, Dave Brubeck, Mark Murphy, Paquito D'Rivera, Jon Hendricks and McFerrin. He was the arranger and rehearsal director for Nick Lachey's winning choir on NBC's telecast of "Clash of the Choirs." During the 2008 Olympics in China, he conducted the World Youth Choir with guest singer Jackie Chan as well as for the opening ceremonies.
More than 100 of Zegree's arrangements have been published and are in use by choral groups around the world, and he wrote two of the definitive books on jazz singing and performance.  Emily Crocker of Hal Leonard, publisher of his book "The Wow Factor: How to Create It, Inspire It & Achieve it," wrote, "Steve was the sweetest man ever and a giant of an educator. We would need a U-Haul truck to remove the exclamation points and ellipses from that manuscript, but like Steve, it was effusive and full of wisdom and humor."
Zegree is survived by his wife, Laurie Hofmann; children, Sarah Zegree and Nat Zegree; and sister, Joan Zegree. He also leaves a legacy to a larger family on six continents: the thousands of singers and musicians, both professional and amateur, who had the opportunity to study, learn and perform with him.