What: Jazz Celebration with guest trombonist John Fedchock
When: 8 p.m., Saturday, April 25
Where:Buskirk-Chumley Theater, 114 E. Kirkwood Ave., Bloomington
Tickets: General admission tickets available from the Buskirk-Chumley box office, 812-323-3020. $15 Non-students, $5 Students with ID.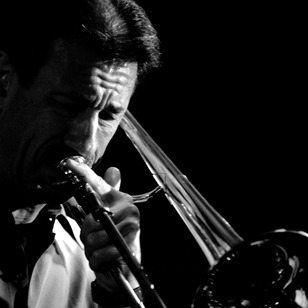 FOR IMMEDIATE RELEASE
April 10, 2015 
BLOOMINGTON, Ind. -- The Indiana University Jacobs School of Music is pleased to present its annual Jazz Celebration at 8 p.m. on Saturday, April 25, at the Buskirk-Chumley Theater in downtown Bloomington.
This year's celebration features Jacobs School jazz faculty and students in big band, combo and Latin Jazz combo formats with John Fedchock—world-renowned trombonist, composer, arranger and big band leader based in New York City—as special guest. Each of the ensembles will feature Fedchock as a soloist, alongside faculty and students.
"It's not hyperbole to suggest that John Fedchock may be the finest jazz trombonist living today," said trombonist Brent Wallarab, associate professor of jazz studies. "Beyond his unlimited technical skill on the instrument, he is an artist of the highest caliber. We're very fortunate that our students and the Bloomington community have the opportunity to interact with this world-class artist."
Fedchock's original compositions and arrangements will be performed by the faculty/student jazz ensemble led by Wallarab, which will include Jacobs faculty Pat Harbison, trumpet; Tom Walsh, saxophone; Wayne Wallace, trombone; Dave Stryker, guitar; Jeremy Allen, bass; and Steve Houghton, drums. The Latin Jazz Combo will be led by Wallace and Michael Spiro, associate professor of percussion. The groups will be filled out with hand-selected, top-notch jazz students.
Fedchock started his career with the legendary Woody Herman Orchestra, serving as musical director, chief arranger and featured soloist. He also toured with Louis Bellson's Big Band, Gerry Mulligan's Concert Jazz Band and the Carnegie Hall Jazz Orchestra, among others. He went on to form his own big band, the John Fedchock New York Big Band, featuring his compositions and arrangements performed by some of New York's finest jazz musicians.
His group has recorded four critically acclaimed CDs that have enjoyed great success on the jazz radio charts. Fedchock has also released four recordings in small group settings. His most recent, "Fluidity, The John Fedchock Quartet Live," was released in March 2015. JazzReview.com praised his "incomparable trombone playing, which seems to have no limit, technically or musically."
"Aside from being a great trombonist, John Fedchock is one of the best-known big band composer-arrangers of the past 30 years," said Walsh, chair of the Jacobs Jazz Studies Department. "He writes great, swinging big band music rooted in his experience with Woody Herman, but with a contemporary sensibility."
David Brent Johnson, host of WFIU's "Just You and Me" and "Night Lights" jazz programs, will emcee the event, which is part of April's Jazz Appreciation Month.
General admission tickets--$15 for non-students and $5 for students with ID—are available from the Buskirk-Chumley Theater box office at 114 E. Kirkwood Ave. 10 a.m. to 6 p.m. Monday through Friday or online.