WHAT:  Hammer and Nail: Contemporary Dance/Student Composer Collaborative Concert
WHEN: April 14 and April 15: Program A 6:30 p.m., Program B 8:30 p.m. each night.
WHERE:  Buskirk-Chumley Theater, 114 E. Kirkwood Ave., Bloomington
TICKETS: Free—non-perishable food items will be accepted in lieu of an admission fee.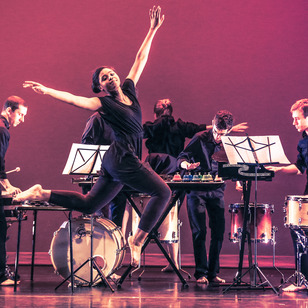 FOR IMMEDIATE RELEASE
April 13, 2015
BLOOMINGTON, Ind. – Students from the Indiana University Jacobs School of Music and the IU Department of Theatre, Drama and Contemporary Dance will perform two shows of original choreography and music on April 14 and 15 at the Buskirk-Chumley Theater in downtown Bloomington in the twelfth annual presentation of the "Hammer and Nail" concert.
Each evening, Program A will begin at 6:30 p.m., and Program B will begin at 8:30 p.m. Each program is approximately one hour long without an intermission and supported financially by the IU Student Association. In lieu of an admission fee, non-perishable food donations will be accepted in the Buskirk-Chumley lobby to benefit the Hoosier Hills Community Food Bank.
Works featured on the concerts are the result of months of collaboration between Jacobs School of Music composers under the advisement of Jeffrey Hass, professor of composition and director of the Jacobs Center for Electronic and Computer Music, and choreographers from the Department of Theatre, Drama, and Contemporary Dance under the direction of faculty member Selene Carter.
"Hammer and Nail" began in 1999 when composers and guitarists collaborated to create new works that explored various techniques. Composers Forest Pierce and Justin Merritt, along with guitarists Nick Ciraldo and Espen Jensen (now Jacobs School admissions director) helped create works that are still in the contemporary guitar repertoire today. Collaborations with viola, organ and harp followed.
In 2006, Elizabeth Shea, director of IU's Contemporary Dance program, and Hass enlisted the help of Ryan Burress and the Student Composer Association along with the Contemporary Dance choreography class to begin "Hammer and Nail" in its current iteration. In recent years, the concerts have grown to include 15-20 new five-minute works for dance and chamber ensemble.
According to Hass, the program is "one of the great successes of intercampus collaboration, which I expect will continue for many years to come. It is an experience which takes the students out of their comfort zones and leads to an understanding of the process of artistic sharing, both in formulating and negotiating creative ideas that they would not necessarily have in their own programs alone."
Choreographers and composers are paired after an evening of "speed dating" in which they share their ideas and approaches to creation. This year, Nick Morandi, Corey Rubin, Louis Goldford and Ian Clarke of the Student Composer Association, along with dance and composition faculty, helped to pair students expressing similar artistic visions. The current performances feature a wide array of instrumentations and multimedia, including fixed media electronics, spatialized performers and unconventional percussion.
Composer Kim Osberg and choreographer Nick Heinzen collaborated on a piece titled "(Re)place: Paper or Plastic" that utilizes "amplified trash" consisting of paper and plastic bags as percussion instruments. According to Heinzen, "[as] the choreographic intent of bodies placing and replacing each other became clearer, the idea of using paper and plastic objects as instrumentation formed, paralleling the idea of routine, establishing and breaking routine, and placing and replacing sounds, and bodies in space."
"It was a slowly evolving storm of creative fusion that finally came together only in this last month," said Osberg." "Through this process, it becomes abundantly clear that working with a choreographer is really [just] working with another composer; they organize their medium in time, space and gestures just like musical composers do. Realizing that has opened my world to a host of other collaborative ideas and has made me a better collaborator in general."