WHAT:Singing Hoosiers Spring Concert
WHEN: 2 p.m. and 8 p.m. Saturday, April 11
WHERE: IU Auditorium, 1211 E. Seventh St
TICKETS: Non-students: $14 to $19 matinee, $18-25 evening; Students: $5 either show. Tickets may be purchased online at iuauditorium.com, in person at the Auditorium box office, at all Ticketmaster outlets or charged by phone at 800-745-3000. The box office is open 10 a.m. to 5 p.m. Monday through Friday,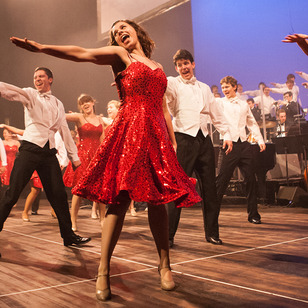 FOR IMMEDIATE RELEASE
April 1, 2015 
BLOOMINGTON, Ind. – The Grammy-nominated Indiana University Singing Hoosiers will end their 65th-anniversary-year celebration on a high note with their spring concert at 2 p.m. and 8 p.m. on Saturday, April 11, at the IU Auditorium. 
The annual family-friendly spring event will be directed by Jacobs School of Music jazz voice faculty Ly Wilder and Duane Davis, and will be dedicated to the group's late director, Steve Zegree, Pam and Jack Burks Professor of Music, who died March 7. 
The show by the 80-voice group and eight-piece band will feature a broad variety of music, from Bach to Bruno Mars to Cole Porter and Michael Jackson, with compositions by Singing Hoosiers alumni and a classic arrangement of "The Battle Hymn of the Republic" sung with them. 
"We also take great pride in featuring the talents of our current students as they share their production numbers, which are conceived, arranged, choreographed, directed, produced and costumed by these talented young people," said Wilder. "The show will be fast paced, family friendly, energetic, fun and a reflection of the powerful musical tradition the Singing Hoosiers have come to embody. We dedicate these performances to Dr. Stephen Zegree, our beloved director and mentor, who combined the best of tradition and innovation."
In conjunction with the concert, the IU Alumni Association is hosting theSinging Hoosiers 65th Anniversary Weekend. The alumni reunion will feature numerous activities and will be honoring this year's Outstanding Young Singing Hoosiers Award recipient, Ryan Endris, and Distinguished Alumni Award recipients, Judy Schwab, Ray Fellman and Robert Clark. 
Reserved seating tickets for the Singing Hoosiers performances are $14 to $25 for non-students and $5 for students. For more information, call the IU Auditorium Box Office at 812-855-1103, Ticketmaster at 800-745-3000, or visit iuauditorium.com. 
This year's performances are sponsored by Smithville Communications.