WHAT: IU Vocal Jazz Ensembles Spring Concert with Bobby McFerrin
WHEN: 8 p.m. Monday, April 6, 2015
WHERE:Buskirk-Chumley Theater, 114 E. Kirkwood Ave., Bloomington
TICKETS: Reserved seating tickets available from the Buskirk-Chumley box office, 812-323-3020. Regular $25, Students with ID $10. 
FOR IMMEDIATE RELEASE
March 11, 2015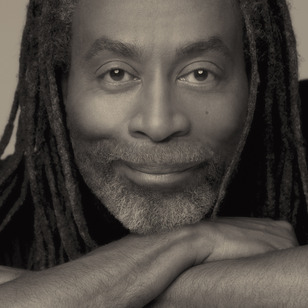 BLOOMINGTON, Ind. – The Indiana University Vocal Jazz Ensembles are thrilled to welcome vocal superstar and pioneer Bobby McFerrin to their Spring Concert at 8 p.m. on Monday, April 6, at the Buskirk-Chumley Theater in downtown Bloomington. 
Down Beat Award-winning IU Vocal Jazz Ensemble I and IUnison, with directors Duane Davis and Ly Wilder, will perform with a top-notch rhythm section before living legend McFerrin takes the stage to guide a spontaneous vocal journey with them and the audience. 
"We are incredibly excited that Bobby McFerrin is coming to Bloomington," said Steve Zegree, late director of IU Vocal Jazz Ensemble I and the IU Singing Hoosiers, who died March 7. "Our students are so fortunate to have the opportunity to share the stage with Mr. McFerrin. He is one of the most amazing and talented musicians I have ever known. He essentially changed the world with his a cappella singing. This will be a very special opportunity for our audiences and our students."
A 10-time Grammy winner, McFerrin has blurred the distinction between pop music and fine art, goofing around barefoot in the world's finest concert halls, exploring uncharted vocal territory, inspiring a whole new generation of a cappella singers and the beatbox movement. The latest of his 14 albums, "spirityouall," is a bluesy, feel-good recording, an unexpected move from the music-industry rebel who singlehandedly redefined the role of the human voice with his a cappella hit "Don't Worry, Be Happy" in 1988, his collaborations with Yo-Yo Ma, Chick Corea and the Vienna Philharmonic, his improvising choir Voicestra and his legendary solo vocal performances.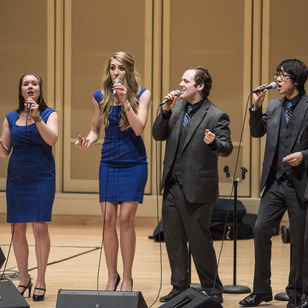 After creating a lasting ear-worm of a number one hit early in his career, McFerrin went back to pursuing his own iconoclastic musical journey, improvising on national television, singing melodies without words, spontaneously inventing parts for 60,000 choral singers in a stadium in Germany, ignoring boundaries of genre and defying all expectations. 
He came from a family of singers. His father, Metropolitan Opera baritone Robert McFerrin Sr., provided the singing voice for Sydney Poitier for the film version of "Porgy and Bess," and his mother, Sara, was a fine soprano soloist and voice teacher. McFerrin remembers hiding under the piano while his father and mother coached young singers. He played the clarinet seriously as a child but began his musical career as a pianist at the age of 14. 
McFerrin's history as an instrumentalist and bandleader is key to understanding his innovative approach to mapping harmony and rhythm—as well as melody—with his voice. "I can't sing everything at once," he says, "But I can hint at it so the audience hears even what I don't sing." That pioneer spirit and virtuosity have opened up a sky full of new options for singers, as have his experiments in multi-tracking his voice. 
"I try not to 'perform' onstage," says McFerrin. "I try to sing the way I sing in my kitchen, because I just can't help myself. I want audiences to leave the theatre and sing in their own kitchens the next morning. I want to bring audiences into the incredible feeling of joy and freedom I get when I sing."