FOR IMMEDIATE RELEASE
Feb. 9, 2015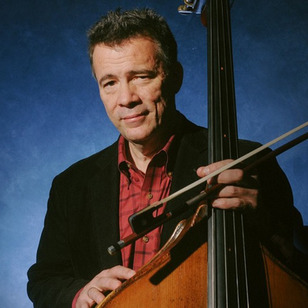 BLOOMINGTON, Ind. – The Indiana University Jacobs School of Music is pleased to announce that three of its alumni took home a coveted Grammy statuette last night from the 57th Grammy Awards.
The win marked the fifth Grammy Award for superstar double-bassist Edgar Meyer, this time for Best Contemporary Instrumental Album for "Bass & Mandolin" with mandolinist Chris Thile. Watch their backstage comments.
"IU helped open up my musical world," said Meyer. "I met friends and colleagues that I am still close with today, and I was exposed to ideas and aspects of music that took me years, if not decades, to absorb."
Pianist Cory Smythe also brought home some hardware, for Best Chamber Music/Small Ensemble Performance, with "In 27 Pieces: The Hilary Hahn Encores" featuring violinist Hilary Hahn.
"With regard to this award, I think I'm mostly just lucky to be working with Hilary Hahn, a veritable Grammy-winning machine," said Smythe. "But I feel luckier still to be making music for a living and deeply fortunate to have spent so many illuminating years among the brilliant and nurturing artists at the Jacobs School of Music."  
Rounding out this year's triumphant triumvirate is early-music tenor Aaron Sheehan for his solo work on "Charpentier: La Descente D'Orphée Aux Enfers" in the Best Opera Recording category. Watch his acceptance speech.
"I was completely stunned by the win for Best Opera Recording last night," said Sheehan. "It was an honor just being nominated among such distinguished colleagues in the field. I am very proud of the work of the Boston Early Music Festival and honored that they have been so loyal to me as one of their singers. All in all, it was a great night for historically informed performance!"
Also appearing on "Charpentier: La Descente D'Orphée Aux Enfers" are Jacobs alumni Kathryn Montoya, oboe and recorder, and Avi Stein, harpsichord, as part of the Boston Early Music Festival Chamber Ensemble.
Additionally, alumna soprano Gitanjali Mathur performed on Conspirare Company of Voices' "The Sacred Spirt of Russia" release, which won the Grammy for Best Choral Performance. The miniature gramophone in this category is given to the conductor—in this case, Craig Hella Johnson.
Meyer earned a bachelor's degree from the Jacobs School of Music in 1984, studying with Stuart Sankey. Smythe earned his Jacobs bachelor's degree in 1999 and his artist diploma in 2004, having studied with Luba Edlina-Dubinsky. Working with primary teacher Paul Elliott as well as Paul Kiesgen, Sheehan earned his master's degree in 2001.
As one of the world's premier music schools, the Indiana University Jacobs School of Music has the most comprehensive music program in the United States and the largest resident faculty of any music education institution. Approximately 1,600 students from all 50 states and over 55 countries study in a conservatory atmosphere—amidst the academic resources of a major research university—with more than 170 full-time faculty members who are among the finest performers, scholars, composers and educators today.