FOR IMMEDIATE RELEASE
June 27, 2014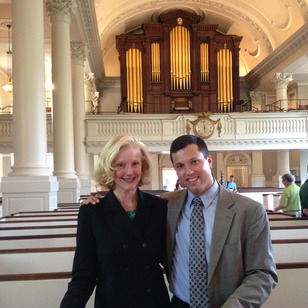 BLOOMINGTON, Ind. – Indiana University Jacobs School of Music student Jonathan Rudy won the audience prize and first prize at the National Young Artists Competition in Organ Performance in Boston on June 23.
Part of Rudy's prize includes two years of concert management and assistance in career development from Karen McFarlane Artists.
The competition was part of the biennial national convention of the American Guild of Organists.
Rudy has been a student of Janette Fishell, chair of the Jacobs Organ Department, throughout his M.M. and D.M. studies at the school. Additionally, he has studied improvisation with Bruce Neswick while at Jacobs.
"From the first lesson I gave Jonathan in his M.M. studies, I could sense that he had a deep musicianship and a compelling vibrancy in his playing," said Fishell. "I've loved working with him because he loves a challenge and has embraced every learning curve with a positive attitude and enormous commitment. He will represent us well in every respect on the national stage and carry out the professional obligations associated with winning NYACOP with distinction. The next two years of his life will be amazing, and I hope he enjoys every performing opportunity coming his way—he's certainly earned it.
"We are proud of all three of our students who competed in the semi-final round: Aaron Sunstein and Kirk Rich—both students of Chris Young—and Jonathan," Fishell continued. "Both Kirk and Jonathan advanced to the finals, with Kirk taking home third prize."
"I was honored to be competing in this event alongside such high levels of performance ability and musical talent," said Rudy. "I am humbled to be selected by the audience and the judges, and am grateful to those who helped me through the various rounds, especially Dr. Janette Fishell, my colleagues, and my friends and family."
Rudy, a native of Batavia, Ill., has recently performed in Columbus (Ga.), Batavia (Ill.), Terre Haute and Bloomington (Ind.), Sacramento, and Charlotte. He appears frequently in competitions and was a finalist in the National Organ Playing Competition in Fort Wayne, Ind., and won second prize in the Regional Competition for Young Organists in 2011.
He is currently pursuing his doctorate degree in organ and sacred music at the Jacobs School of Music. His prior degrees are from IU and Valparaiso University (studying with Lorraine Brugh and Karel Paukert). He studied with Karl Bruhn and his mother, Melinda J. Rudy, in high school. 
Rudy is organist at Central Presbyterian Church in Terre Haute and an associate instructor of music theory and aural skills at Indiana University.