WHAT: "Jazz Celebration—Indiana Jazz Legends: Hoagy, Wes and J.J."
WHEN: 8 p.m., Saturday, April 26
WHERE: Musical Arts Center, 101 N. Jordan Ave.
TICKETS: $10-$25 reserved seating and $8 for students, at the Musical Arts Center box office from 11:30 a.m. to 5:30 p.m. Monday through Friday, by phone at 812-855-7433 or online through music.indiana.edu/boxoffice.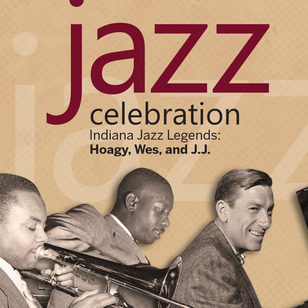 FOR IMMEDIATE RELEASE
April 16, 2014 
BLOOMINGTON, Ind. – As part of the national Jazz Appreciation Month, the Indiana University Jacobs School of Music will pay tribute to several Indiana jazz legends at its annual "Jazz Celebration" concert at 8 p.m. on Saturday, April 26, in Bloomington's Musical Arts Center.
The music of composer and pianist Hoagy Carmichael, guitarist Wes Montgomery and trombonist J.J. Johnson will be featured in this year's "Indiana Jazz Legends: Hoagy, Wes and J.J."
Louisville vocalist Gayle King will join new Jazz Studies Department faculty members Dave Stryker, guitar, and Wayne Wallace, trombone, in the spotlight performing with a 50-piece jazz studio orchestra featuring Jacobs School of Music faculty and students.
"Gayle is a veteran jazz vocalist who really knows how to connect with an audience," said Tom Walsh, professor of saxophone and chair of the Jazz Studies Department. "She has a rich and wonderfully expressive voice that reminds me of singers like Carmen McRae and Sarah Vaughan."
The orchestra will be led by faculty member Brent Wallarab, who created most of the orchestral arrangements especially for this event, including Carmichael favorites "Stardust" and "Heart and Soul." 
Guitarist Stryker will be heard playing classics by Wes Montgomery with Indianapolis organist Kevin Anker performing on the Jacobs School's newly refurbished Hammond B-3 organ.
"While most people generally don't associate jazz with a big 50-piece orchestra, all three Indiana legends we are featuring had significant portions of their careers connected with large, orchestral settings," said Wallarab, who is musical director for the celebration. "Hoagy Carmichael was 'discovered' by the great bandleader Paul Whiteman, who was the first American artist to present jazz in a highly arranged orchestral setting, Hoagy's early hits being among those arrangements. J.J. Johnson, the pioneer bebop trombonist, settled in Hollywood for part of his career to compose film and television scores utilizing a full-scale studio orchestra. And Wes Montgomery enjoyed a string of popular hits in the 1960s that were lushly scored for orchestra. The colors of jazz lend themselves perfectly to a setting like this."
Grammy-nominated trombonist, composer and arranger Wallace will lead a Latin jazz octet in an original arrangement of "Shutterbug" by Indianapolis trombone virtuoso Johnson, as well as being heard with the orchestra playing Johnson's "Lament."
Rounding out the program is the IU Vocal Jazz Ensemble, directed by Steve Zegree, singing Carmichael's "Georgia."
"Our new jazz guitar professor, Dave Stryker, from New York City, brings a world-class performance career with him, having recorded over 25 CDs as a leader," said Steve Houghton, professor of jazz and percussion, and the producer of the Jazz Celebration. "Dave has played with jazz greats such as Jack McDuff, Stanley Turrentine, Randy Brecker, Kevin Mahogany and Stefon Harris, among others. His latest recording, 'Eight Track,' is currently at the top of the jazz charts. We will be performing in the classic organ trio format made famous by Wes Montgomery, and Indy jazz organ great Kevin Anker will join us for this swinging set. In addition, Dave will be featured with the studio orchestra playing some of Wes's pop hits. We know you'll know the tunes."
This year's Jazz Celebration poster and program feature photographs by legendary Indiana photographer Duncan Schiedt as a tribute to his life's work. Schiedt died on March 12, 2014.
Jazz Celebration 2014 is sponsored by Old National Wealth Management.