WHAT:  IU Jazz Ensemble directed by Tom Walsh, Vocal Jazz Ensemble I directed by Steve Zegree and IUnison directed by Ly Wilder as part of the New York City Jazz Festival
WHEN: 8 p.m. Sunday, April 13
WHERE: Rose Theater at Jazz at Lincoln Center
TICKETS: Available at jalc.org or CenterCharge (212) 721-6500, TTY (212) 957-1709, and at the Jazz at Lincoln Center box office at Broadway and 60th Street, ground floor 
FOR IMMEDIATE RELEASE 

April 8, 2014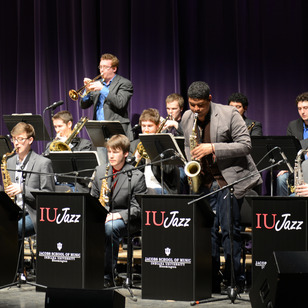 BLOOMINGTON, Ind. — Three ensembles from the Indiana University Jazz Studies program at the Jacobs School of Music will serve as jazz ambassadors from Indiana during a featured performance on the final concert of the 2014 New York City Jazz Festival at Jazz at Lincoln Center at 8 p.m. on Sunday, April 13.
The top IU Jazz Ensemble, led by Tom Walsh, chair of the Jazz Studies Department, will perform with Grammy Award-winning New York Voices. The renowned vocal quartet includes Darmon Meader, who serves as an adjunct lecturer at the Jacobs School.
"We are very excited to have the opportunity to perform with such a world-class group as New York Voices in one of the premier jazz venues in the world," Walsh said. "Working directly with Darmon on his arrangements has been a real treat."
In addition, IU Vocal Jazz Ensemble I, directed by Pam and Jack Burks Professor of Music Steve Zegree, will give a featured performance during the 8 p.m. concert, with Darmon Meader as a guest artist.
Directed by Adjunct Lecturer Ly Wilder, IUnison will join Ensemble I in collaborating with other festival participants during the evening concert as part of the Festival Chorus, directed by Zegree. In addition, IUnison will perform Sunday at noon in The Appel Room at Jazz at Lincoln Center as part of the afternoon festivities.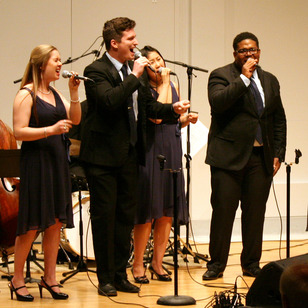 "On behalf of the IU students, we could not be more proud to represent the Jacobs School of Music and Indiana University at one of the most famous jazz venues in the world," said Zegree. "This is a tremendous educational and performance opportunity for our students to go toe to toe with top professionals. Our students have been working very hard and are looking forward to sharing their talents. We hope to see many IU alumni, friends and family in the audience."