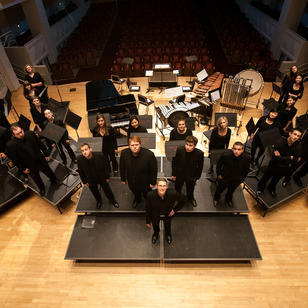 WHAT:NOTUS, Indiana University's Contemporary Vocal Ensemble from the Jacobs School of Music
WHEN: 8 p.m. Friday, March 21, 2014 

WHERE: Weill Recital Hall at Carnegie Hall, New York City

TICKETS: Available at carnegiehall.org or 212-247-7800 
FOR IMMEDIATE RELEASE 

March 12, 2014 
BLOOMINGTON, Ind.– NOTUS, the Indiana University Contemporary Vocal Ensemble, directed by Dominick DiOrio, Jacobs School of Music assistant professor of choral conducting, will act as a musical ambassador of the Midwest during a high-profile concert in New York City. 
The 24 student members of NOTUS will perform in Carnegie Hall's Weill Recital Hall at 8 p.m. on Friday, March 21 as part of a special concert hosted by Distinguished Concerts International New York. 
Titled "a cappella NEXT!" and part of the Distinguished Concerts Artist Series, the program will feature adventurous new music for voices by three different choirs invited to take part in this inaugural festival. 
The two other ensembles performing are the Ad Astra Singers, a professional choir from Wichita, Kan., and the University of California, Berkeley Chamber Singers, directed by Jacobs alumna Marika Kuzma. 
"We could not be more excited to be performing in Carnegie Hall," said DiOrio. "The students have worked so hard and prepared so well for this incredible opportunity. And for some, this will be their first time in New York City. These students are talented representatives of the Jacobs School of Music and proud members of our Hoosier family."
NOTUS will sing works by five living composers, including a premiere performance of a commissioned piece by Jacobs School of Music assistant professor of composition Aaron Travers. Other composers featured will be Zachary Wadsworth, Robert Vuichard, Pulitzer Prize-winning composer Caroline Shaw, and conductor-composer DiOrio.
One of the only collegiate choirs in the world that has a singular focus on new music and living composers, the ensemble is made up of a diverse collection of undergraduate and graduate music majors from the Jacobs School, including students with majors in voice, piano, early music, choral conducting, composition and music education.
NOTUS is committed to championing music of living and emerging composers, especially notable works for voices composed by Indiana University faculty and students. Deriving its name from the Greek wind god, it signifies the winds of change.