FOR IMMEDIATE RELEASE
March 25, 2014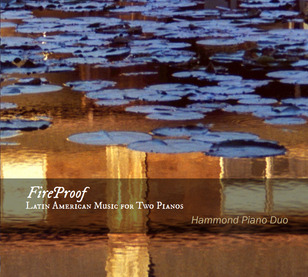 BLOOMINGTON, Ind. – The Indiana University Latin American Music Center at the Jacobs School of Music will release its latest recording project, "FireProof: Latin American Music for Two Pianos," at the center's "Salón Latino" concert at 8 p.m. on Thursday, March 27, in Auer Hall. Admission is free.
Recorded by the Hammond Piano Duo, the album features music for two pianos or four-hand piano by Latin American composers Roberto Cedeño (Venezuela), current IU doctoral student in composition Francisco Cortés-Álvarez (Mexico), Jacobs professors emeriti Alfonso Montecino and Juan Orrego-Salas (Chile), Jacobs alumna Ileana Pérez Velázquez (Cuba) and Astor Piazzolla (Argentina).
Thursday's concert will feature some of the finest present and former students from the Jacobs School of Music, as well as invited guests, performing an all-Latin American chamber music program. In celebration of the 95th birthday of Latin American Music Center founder Orrego-Salas, his son Juan Felipe Orrego will conduct one of his father's most popular works, "Canciones castellanas," Op. 20.
The event is the fourth chamber music concert in the center's "Salón Latino" series.
Marina and Fred Hammond made their debut as a duo in 1991 at the Fifth Latin American Music Festival in Caracas, Venezuela. Since then, they have been committed to promoting contemporary piano music, particularly the Latin American repertoire.
The Hammonds have given two-piano recitals and played with orchestras in the United States, Argentina, Venezuela and Spain. Highlights include the Latin American premiere of Schnittke's Concerto for Piano Four Hands with the Venezuelan Simón Bolívar Orchestra and Alfredo Rugeles in Caracas, a recital at the Fourth Festival of Contemporary Music in Alicante, Spain, and a recital in celebration of the 70th anniversary of the National Music Conservatory in Buenos Aires, Argentina.
Since 2004, the duo has been featured annually in the Music in the Mountains recital series and is on the faculty at the Rocky Ridge Music Center in Colorado.
The Hammonds live in Bloomington, where they teach for the Young Pianists Program at the Jacobs School of Music.