WHAT: "Double Exposure," a collaborative project involving original student works in film and music
WHEN: Sunday, March 9, 6:30 p.m. (Note: Daylight Saving Time begins at 2 a.m. March 9.)
WHERE:IU Cinema, 1213 E. Seventh St.
TICKETS: Admission is free, but tickets are required. Tickets can be picked up at the IU Auditorium Box office 10 a.m. to 5 p.m. Monday through Friday or one hour before any screening at the cinema.
VIDEO: Watch the trailer.
FOR IMMEDIATE RELEASE
March 6, 2014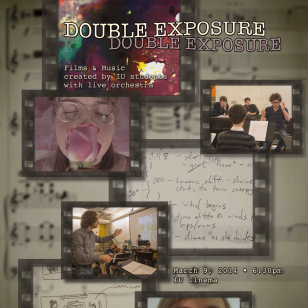 BLOOMINGTON, Ind. – The "Double Exposure" project returns to Indiana University Cinema for the third year with a new program of works created by teams of IU student filmmakers and composition students from the Jacobs School of Music, with the scores performed live by an ensemble of student musicians.
Students in the Jacobs Department of Recording Arts join the 11 creative teams to contribute their expertise in the areas of sound design, recording and mixing.
Initiated by IU Cinema, with organizational support by the Student Composer Association and Film & Media Studies in the Department of Communication & Culture, Double Exposure aims to introduce students to the intensely collaborative art of combining film, music and sound.
Throughout the project, students have been guided by faculty members John Gibson (Jacobs School), Mark Hood (Jacobs School) and Susanne Schwibs (Department of Communication and Culture). Professors in the Jacobs Department of Composition have worked with the student composers to refine their scores.
"Double Exposure showcases the breadth and depth of talent at Indiana University and the amazing resources when it comes to media on our campus," said Schwibs. "The students have worked since last fall to create this event—filming, scoring, rehearsing, recording—and I am looking forward to seeing their efforts come together at the IU Cinema."
"Experiencing every stage of this project—from collaborative planning, to scoring, rehearsing and recording the music, synchronized with the films—has been invaluable for our students," said Gibson. "The show on Sunday will be spectacular."
Hood added, "We're thrilled at this opportunity for Recording Arts students to collaborate with these talented filmmakers and composers under real-world conditions—time constraints, budget limitations, instrumentation restrictions and daunting technical requirements—to produce these polished cinematic gems and exhibit them in the state-of-the-art IU Cinema."
William Rowe, an officer of the Student Composer Association, explained that developing interdisciplinary projects is one of the fundamental goals of the association. "Interdisciplinary collaboration is steadily becoming a greater staple in the contemporary composer's repertoire," Rowe said. We think it's incredibly important not only to create a good foundation for future collaborations, but also to create an experience that sparks the initiative of artists in all fields."
Conductors Samuel Emanuel and Carlo Frizzo will lead two ensembles during the screening. Manny Knowles, assistant director for IU Cinema systems/operations, will oversee the projection of film for the demanding, fast-paced program.
"Supporting and premiering student work across multiple disciplines—film, composition, performance and recording arts—reinforces why we are here," said IU Cinema director Jon Vickers.