FOR IMMEDIATE RELEASE
Feb. 26, 2014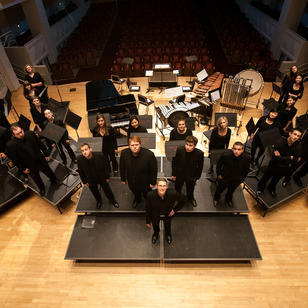 BLOOMINGTON, Ind. – The Indiana University Singing Hoosiers and NOTUS: Contemporary Vocal Ensemble are representing the Jacobs School of Music at the American Choral Directors Association Central Division Regional Conference Feb. 26-March 1 in Cincinnati, Ohio.
Both groups are serving as demonstration ensembles for interest sessions led by their directors, Steve Zegree and Dominick DiOrio, respectively.
DiOrio will give a presentation, "Thirty-Something: New Choral Music by Today's Hottest Young Composers," on Thursday, Feb. 27, at 11 a.m. in the Rosewood Room of the Hilton Netherlands Plaza Hotel.
His presentation will include discussion of trends in contemporary choral repertoire, including particular information about each of the young composers featured (including faculty composer Aaron Travers and student composers Texu Kim and Patricia Wallinga). NOTUS: Contemporary Vocal Ensemble will perform a wide variety of repertoire, spanning music of both great difficulty and accessibility.
The first 200 attendees will receive complimentary packets of scores for all of the session repertoire.
Zegree will give a presentation, "Vocal Jazz vs. Show Choir: Can't We Be Friends?," on Friday, Feb. 28, at 3:15 p.m. in the Continental Ballroom of the Hilton Netherlands Plaza Hotel.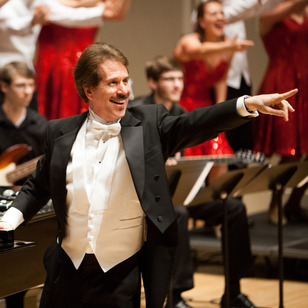 Zegree's session will focus on similarities and differences between the two vocal camps, philosophy and methodology behind the performance decisions and rationale of the director, and programming considerations when choosing repertoire. The Singing Hoosiers will serve as a model demonstration ensemble, performing both jazz standards and newer, more contemporary works.
The conference will host over a 1,000 choral directors, music educators, publishers, composers, singers and industry professionals from across the United States, and particularly from the Central Division states of Illinois, Indiana, Michigan and Ohio.
In addition to Zegree and DiOrio, the IU Student American Choral Directors Association chapter will send 12 young music educators to the conference, one of whom—Alex Baker—was also selected to take part in the auditioned Collegiate Repertory Chorale with conductor Pearl Shangkuan.
Many notable IU alumni will also take part in the conference, including organizers Jennifer Burkemper and Cheryl West, and conductors Earl Rivers, Dana Taylor and Bruce Chamberlain.
West and Rivers are Singing Hoosiers alumni, and Baker is a current member of the group.
Founded in 1959, the American Choral Directors Association is a nonprofit music-education organization whose central purpose is to promote excellence in choral music through performance, composition, publication, research and teaching. In addition, the association strives through arts advocacy to elevate choral music's position in American society.