FOR IMMEDIATE RELEASE
February 5, 2014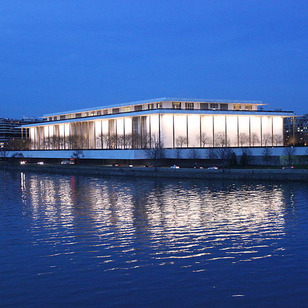 BLOOMINGTON, Ind. – Several students from the Indiana University Jacobs School of Music will perform Saturday, February 22, at 6 p.m. EST, at the Terrace Theatre on the Millennium Stage at the John F. Kennedy Center for the Performing Arts in Washington, D.C. The performance is free, open to the public, and will be streamed live on the Web at http://www.kennedy-center.org/programs/millennium.
Jacobs School students selected to participate include Nora Scheller, violin; Michael Brandenburg, tenor; Jooeun Pak, piano; and the Kenari Quartet (Robert Eason, soprano saxophone; Durand Jones, alto saxophone; Corey Dundee, tenor saxophone; and Steven Banks, baritone saxophone).
The program includes works by Fauré, Debussy, Tchaikovsky, Rachmaninoff, Piazzolla, Nagao, Dubois, Kapustin.
About the Artists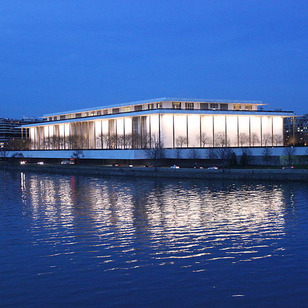 Violinist Nora Scheller is a junior at the Indiana University Jacobs School of Music, where she is studying with Alexander Kerr and completing her artist diploma. Scheller's other principal teachers have included Peter McGuire and Helen Chang‐Haertzen.
Scheller first showed an interest in music at the age of 4, when she began her violin studies. Since then she has gone on to perform as a substitute with the Dallas Symphony Orchestra, as Assistant Concertmaster of the Aspen Chamber Symphony, and as part of the New York String Orchestra Seminar in Carnegie Hall. 
In addition to her orchestral accomplishments, Scheller was chosen to perform and tour as part of the IU Starling Chamber Players in 2013, alongside Alexander Kerr and Eric Kim. Ms. Scheller was also a recipient of the Jack Kent Cooke Young Artist Award issued by NPR's From The Top, on which she performed in 2010. 
Scheller spends her summers at the Aspen Music Festival and School, where she continues her studies with Professor Kerr. 
Tenor Michael Brandenburg, a native of Austin, Ind., began studying voice while pursuing a master of science degree in aquatic biology at Ball State University. He received a Jacobs Fellowship from the Jacobs School, where he is currently pursuing a performer diploma. He made his stage debut as Prince Charmant in Massenet's Cendrillon with the Indiana University Opera Theater last season. This season, he sang the title role in IU Opera's production of Massenet's Werther. 
In 2013, Brandenburg was a winner of the Metropolitan Opera National Council Auditions and he was a winner in the Bel Canto Competition in Chicago. He studies with Jacobs School Distinguished Professor Timothy Noble. 
Pianist Jooeun Pak, a native of Seoul, South Korea, won prizes in national and international piano competitions from the age of 10, including a gold medal in Korean National Piano Competition, Grand Prize in the Kyung Hyang Newspaper Competition, first prize in the American Protégé competition, second prize in Chautauqua International piano competition, and the grand prize in the Jacobs School's Latin American Music Competition in collaboration with the violinist Colin Sorgi. 
Pak is an advocate for contemporary solo and ensemble music, and her successful collaborations with living composers have brought invitations to performances in festivals in major cities including New York, Baltimore, Boston, Chicago and Los Angeles. She is also an avid orchestral pianist, having performed under conductors Lorin Maazel, Arthur Fagen, Matthias Pintscher and Roberto Abbado. 
After completing her bachelor of music in music performance and premed (Cum Laude) and as a Phi Kappa Phi graduate from University of Puget Sound, Pak entered the Jacobs School of Music as a master's student. She is currently pursuing the doctor of music degree in piano performance and literature, studying with Distinguished Professor Menahem Pressler. 
The Kenari Quartet (Robert Eason, Durand Jones, Corey Dundee and Steven Banks) was formed at the Jacobs School in August 2012. The goal and purpose of the quartet is to share the old and new literature of the classical saxophone, as well as to show the instrument's versatility. Through the encouragement of their coach and saxophone instructor, Otis Murphy, the Kenari Quartet has received numerous prizes, including first prize in the Indiana state chamber music round of MTNA, first prize in the J. C. Arriaga Chamber Music Competition, first prize in the Plowman Chamber Music Competition, and the silver medal in the Fischoff Chamber Music Competition.
The Concert Program
Fauré: Après un Rêve
Debussy: Sonata for Violin and Piano in G Minor
Nora Scheller, violin, and Jooeun Pak, piano

Tchaikovsky: Kuda vï udalilis (Where have you gone, o golden days of my spring?)
from EugeneOnegin
Rachmaninoff: Ne poj, krasavica, pri mne (Sing not to me, beautiful maiden), Op. 4, No. 4
Rachmaninoff: Zdes' khorosho (How fair this spot), Op. 21, No. 7
Rachmaninoff: Vesennije vody (Spring waters), Op. 14, No. 11
Michael Brandenburg, tenor, and Jooeun Pak, piano

Piazzolla: Adios Nonino (arranged by Johan Van der Linden)
Nagao: Quatuor II. Chercher
Dubois: Quatuor II. Doloroso
Kapustin: Twenty‐Four Preludes (arranged by Corey Dundee) X. Allegro and XXIV. Presto
The Kenari Quartet
The Project
The Conservatory Project is an initiative of Performing Arts for Everyone's Millennium Stage. As a semi-annual event occurring in February and in May, it is designed to present the best young musical artists in classical music, jazz, musical theater, and opera from the nation's leading undergraduate and graduate conservatories, colleges, and universities in performance at the Kennedy Center.
The 2014 spring series includes performances from the following institutions:
 For more about the IU Jacobs School of Music, visit http://www.music.indiana.edu.