FOR IMMEDIATE RELEASE
Dec. 5, 2013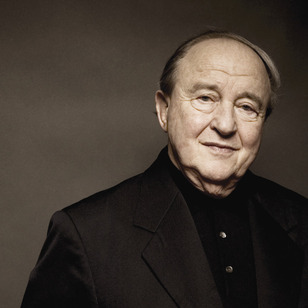 BLOOMINGTON, Ind. – The Indiana University Jacobs School of Music will celebrate the 90th birthday of its senior faculty member, legendary pianist Distinguished Professor Menahem Pressler, with special events on Dec. 12 and 13.
In the first event of its kind for the school, a live video chat, "Menahem Pressler: Virtually Yours," will be offered at 8 p.m. on Thursday, Dec. 12. Participants may purchase access to the chat for $10 and submit their questions and comments through music.indiana.edu/celebrate-pressler. 
"On the eve of his 90th-birthday celebration concert, Menahem Pressler has generously agreed to a cyber-discussion with alumni and well-wishers across the globe," said Gwyn Richards, dean of the Jacobs School. "This interactive chat between teacher and former pupils and others will reconnect far-flung alumni to IU, Bloomington and Professor Pressler. It is the first of its kind for us and may prove to be a model for other such interactions in the future."
In addition, a gala concert will be presented at 8 p.m. on Friday, Dec. 13, in the Musical Arts Center.
The celebration will include performances by Pressler and Wu Han, piano; Daniel Hope, violin; David Finkel, cello; and the Emerson String Quartet.
General admission tickets to the concert are $10 for students and $20 for the general public and are available at the Musical Arts Center box office (812-855-7433) and online at music.indiana.edu/boxoffice. The event will be live-streamed via the IUMusicLive! site.
"So typical of him, on the occasion of his 90th birthday, Menahem will give a present to the university and the community in the form of a concert that incorporates some of his closest musical colleagues," said Richards. "These artists are traveling considerable distances to be with him to celebrate in Bloomington, a testament to their love and appreciation for all he has done for them, and for our musical world."
A founding member and pianist of the former Beaux Arts Trio, Pressler has established himself among the world's most distinguished and honored musicians, with a career that spans almost seven decades. Pressler and Hope played together for several years in Beaux Arts, widely considered to have set the standard for piano trios before its final concert, in September 2008.
Pressler, who joined the Jacobs School of Music faculty in 1955, officially becomes a nonagenarian on Monday, Dec. 16.