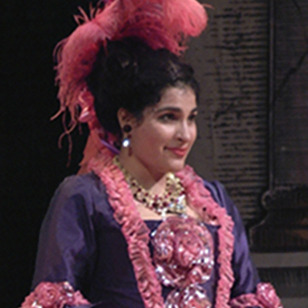 FOR IMMEDIATE RELEASE
Dec. 18, 2013
BLOOMINGTON, Ind. – The Indiana University Jacobs School of Music is pleased to announce the opening of the application process for the recently established Georgina Joshi International Fellowship.
The fellowship provides a unique and brand-new opportunity for Jacobs School of Music graduate voice students—recipients will be afforded an international educational experience of their own design.
Opportunities to participate in auditions, private vocal and language coaching, and competitions—as well as networking—will be afforded to recipients. The students' educational and audition experiences can be in, but are not limited to, cultural centers such as Berlin, Austria, Vienna, London and other European locations.
In the highly competitive field of performing arts, such international experiences are critical to the development of young, aspiring singers.
The fellowship and the opportunities created by it are a vision of Louise E. Addicott and her daughter, Georgina Joshi, and are made possible by a gift from The Georgina Joshi Foundation Inc.
"Our shared vision is that the recipients of this fellowship will see what the world has to offer their professional development. Ambitious Jacobs School voice students will only be limited by their talent, determination and imagination," said Yatish Joshi on behalf of the Joshi Family.
In their applications, students who wish to be considered for the fellowship must demonstrate their collaborative experiences, interest in various musical styles, and mentoring of their peers and fellow students, as well as their intellectual curiosity about music and the humanities in general.
For more information about the application process, contact Mary Ann Hart, chair of the Jacobs Voice Department, at maahart@indiana.edu or (812) 855-3592.
The Georgina Joshi Foundation Inc. was established by Louise E. Addicott in 2007 to provide educational and career development opportunities for young musicians and to encourage and support public performance of music.
The establishment of this endowment by The Georgina Joshi Foundation Inc. is administered by the IU Foundation.
About Georgina Joshi
A native of Indiana, Georgina Joshi received her Bachelor of Music from the Royal College of Music, London, where she studied with Eiddwen Harrhy.
Notably, Joshi sang for the gala opera night at the Beaumaris Festival with the Welsh Chamber Orchestra conducted by Anthony Hose. She also performed the role of the first Harlot in Handel's "Solomon" conducted by William Jon Gray for the 2004 Bloomington Early Music Festival.
Joshi pursued her Master of Music in Voice at the Indiana University Jacobs School of Music, where she studied with Alan Bennett. Her first role at IU was Clorinda in "La Cenerentola."