WHAT: Singing Hoosiers Fall Preview Concert
WHEN: Friday and Saturday, Oct. 11 and 12, 8 p.m.
WHERE: Auer Hall, IU Bloomington campus
TICKETS: $10 general admission, $5 students of any age at Musical Arts Center box office Monday-Friday, 11:30 a.m.-5:30 p.m. (812-855-7433). Due to limited seating, patrons are encouraged to get their tickets in advance.
FOR IMMEDIATE RELEASE
Oct. 4, 2013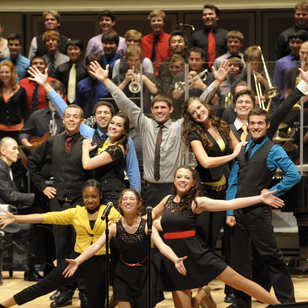 BLOOMINGTON, Ind. – Kicking off its second year under music director Steve Zegree, Pam and Jack Burks Professor of Music at the Jacobs School of Music, the Indiana University Singing Hoosiers will present a Fall Preview concert Oct. 11 and 12 at 8 p.m. in Auer Hall.
The concert presenting new repertoire that will give audiences a glimpse into the music the show choir will feature during its 2013-14 season will include a special guest performance by IU Professor of Voice Marietta Simpson, mezzo-soprano.
"The Singing Hoosiers have been working very hard to present a concert of all new music for our annual Fall Preview," said Zegree. "And we are very excited to have the opportunity to share the stage with the amazing Marietta Simpson!"
As part of its mission of community service, the group gave a glimpse of the preview Oct. 3 at the Boys and Girls Club in Bloomington.
Additional concerts for the Singing Hoosiers this season include the Chimes of Christmas on Dec 11 and its Spring Concert on March 29, both at the IU Auditorium.
In addition, the ensemble has been honored this year with invitations to perform at the American Choral Directors Association convention in Cincinnati and at the Indiana Music Education Association convention in Ft. Wayne.
Averaging 85 student singers and instrumentalists, the Singing Hoosiers feature collegiate performers from the world-renowned Indiana University Jacobs School of Music as well as students from a variety of other majors at IU Bloomington, ranging from biology to political science.
The group performs several concerts a year, both on the IU campus and around the world. They also sing in Jacobs School opera and oratorio productions and at Big Ten basketball games.
The Singing Hoosiers have appeared with such legendary entertainers as Bob Hope, Alan Sherman, Red Buttons, Tony Bennett, Duke Ellington, Timothy Noble and Hoagy Carmichael. They have also performed with several professional symphony orchestras, including the Indianapolis Symphony Orchestra, Detroit Symphony Orchestra, Terre Haute Symphony Orchestra, Evansville Philharmonic, South Bend Symphony Orchestra and the Cincinnati Pops.
The ensemble has entertained millions in 18 states and more than 26 countries, including Europe, Australia, China and the Caribbean. It has been featured in several PBS specials -- including a Christmas special with Mel Torme -- and has recorded "The Magical Music of Disney," "Hollywood's Greatest Musicals" and "Magical Musicals" CDs.