Marjorie Schlamp Winters Harp Scholarship Fund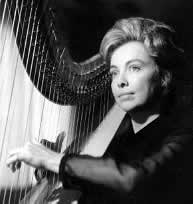 Created in 1992 by John D. Winters, this scholarship is named in honor of his late wife, Marjorie Schlamp Winters. Mrs. Winters majored in piano and harp performance, receiving her Bachelor of Music degree from Indiana University in 1951. She then continued her studies at the University of Illinois, receiving her Master of Music degree in 1953.
Throughout her lifetime and until her death in 1991, Mrs. Winters was a gifted and devoted private teacher of both piano and harp. Her class record books indicate she taught over 250 private students. Her husband and children wanted this scholarship to be a memorial to her dedication to young harpists who shared her love for the instrument. "He knew how much the harp and Indiana University meant to his wife," said Susann McDonald, distinguished professor of harp at Indiana University Jacobs School of Music. Mr. Winters's employer, Caterpillar, Inc., has matched each donation made to this fund.
The Marjorie Schlamp Winters Harp Scholarship is awarded annually to cover tuition costs of one out-of-state harp student or two in-state harp students, according to their financial need, academic record, musical ability, musical potential, and moral values.