Harry Sukman Memorial Scholarship Fund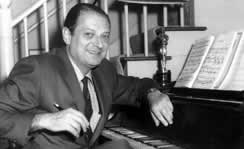 In 1990, Susan Sukman McCray established this fund in honor of her father, Harry Sukman.
Mr. Sukman demonstrated a rare combination of musical abilities as a pianist, composer, and Academy Award winner. A brilliant and talented performer and composer, Mr. Sukman interpreted the world's greatest classical music, garnering critical acclaim.
He made his concert debut at the age of 12. While still in high school, he served as piano accompanist to some of the world's greatest artists, and later studied under the internationally famous pianist Rudolf Ganz. During his remarkable career, Mr. Sukman made many recordings, had his own television show, and appeared in numerous concerts. Soon all his other activities were relegated to secondary importance as he became more and more in demand with motion picture and television producers.
He composed the score of Song Without End, a movie based on the life of pianist-composer Franz Liszt. For him it was a labor of love, and it won him the Academy Award. Mr. Sukman was nominated for several Grammy Awards including Stephen King's movie of the week, Salem's Lot. For his music scores of Fanny and The Singing Nun, Mr. Sukman was nominated for an Oscar. He is also known for his brilliant scores to many long-running television series, such as Dr. Kildare, Bonanza, and High Chaparral, to name a few.
The Harry Sukman Memorial Scholarship is intended to assist pianists in furthering their careers. It is awarded to piano or piano music composition students at IU Jacobs School of Music who have demonstrated talent and performance ability.