Dorothy Richard Starling Chair in Violin Studies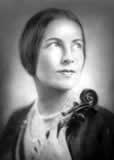 In 1969, Frank M. Starling created the Dorothy Richard Starling Foundation for the purpose of supporting classical violin music. It memorializes his wife, Dorothy Richard Starling, who became interested in the violin during her childhood in Meadville, Pennsylvania. She attended Pennsylvania College of Music, graduating with honors in 1917 and completing post-graduate study with distinction in 1918. In 1919, she obtained her teacher's certificate from Cincinnati Conservatory of Music, where she was ranked by distinguished violinist and composer Pier Adolfo Tirindelli as a student of unusual talent, keen musical perception, and intelligence.
In 1920 she was awarded a scholarship to study under Eugene Ysaye, considered at the time to be the world's most eminent teacher of classical violin. The following year she received a diploma cum laude for post-graduate work with Cincinnati Conservatory of Music. From 1922 to 1925, Mrs. Starling pursued her studies with the eminent professor Leopold Auer and played as soloist with many leading symphony orchestras. It was with great sorrow that she was required for medical reasons to give up the arduous physical demands of life as a professional violinist in 1930.
During all of her years as a student and professional violinist, her constant companion was a Maggini violin, highly acclaimed for its tonal qualities. It was her pleasure during her lifetime to assist in efforts dedicated to further interest in classical violin music.
Established in 1996, the Dorothy Richard Starling Chair in Violin Studies is the first fully funded endowed chair at the Indiana University Jacobs School of Music. In making this gift, the trustees of the Starling Foundation expressed Mr. Starling's desire that the Chair "be occupied by an outstanding and eminent teacher of classical violin music" of world-renowned stature. Distinguished Professor of Violin Franco Gulli is the first to be honored with this appointment.