Terry C. Shirk Memorial Scholarship Fund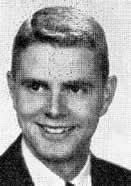 Born in Brookville, Indiana, Terry Shirk (1936-1987) attended A.J. Kent High School in Kentland, Indiana. Mr. Shirk graduated from Indiana University with a Bachelor of Science degree in music general management in 1959. He went on to receive a MBA in 1963, a Bachelor of Music Education in 1967, and a Master of Music degree in choral conducting in 1969. An Affiliate Artist and performer, Mr. Shirk sang in German, French and Italian, and his career included performances with many opera companies in the United States. However, it was his concert work with the New York Committee for Young Audiences which gave him the greatest personal satisfaction. Many schools and universities considered him their finest teaching performer. In 1981, he married Clamma Dale, one of the foremost American singers of our time.
Established by Mrs. Chafee W. Shirk (his mother) and Clamma Dale-Shirk in 1989, this scholarship fund is a testimony to Mr. Shirk's great interest in music and his strong belief in the importance of higher education. The Terry C. Shirk Memorial Scholarship is awarded annually to IU Jacobs School of Music students who are U.S. citizens majoring in voice.