Robert Erland Neal Music Scholarship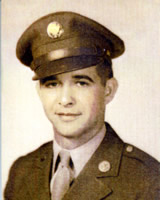 Robert Erland Neal was born on March 7, 1918 in Kirklin, Indiana to George and Anna (Myers) Neal. Mr. Neal lost his mother when he was eleven years old, and was then raised by his paternal grandparents in rural Indiana. Mr. Neal learned to play the saxophone and played throughout his high school and college years. He entered Indiana University Bloomington in the fall of 1935, and may have played with the Indiana University Marching Hundred band while beginning his undergraduate studies in Accounting (University records cannot confirm this). In late 1936, Mr. Neal withdrew from Indiana University and moved to Anderson, Indiana to work at the Delco-Remy plant.
On April 11, 1941, Mr. Neal was drafted into the United States Army. Following basic training at Camp (now Fort) Campbell, Kentucky, he became a member of a military band and dance orchestra which traveled and played throughout the United States. On August 24, 1942 he and 26 other members of the 138th Field Artillery band at Camp Shelby, Mississippi were reassigned to Fort Benjamin Harrison in Indianapolis to serve as the new post band. In the spring of 1943, Mr. Neal's unit formed part of the 20th Armored Division and was attached to the U.S. First Army. The band played at USO shows, where Mr. Neal was considered to be an "inspired improvisor" and was given most of the saxophone solos at the events.
He later served in the European Theater of Operations (ETO) in France, Belgium, Holland, Germany and Austria. His unit was attached to the U.S. Seventh Army as it swept through southern Germany. Mr. Neal served with the unit that entered Hitler's recently bombed out summer house in Berchtesgaden in the search for the Fűhrer. He was especially proud to have been a part of the group that liberated prisoners still interned in the Dachau Death Camp on April 29, 1945.
Following his honorable discharge from the U.S. Army on November 24, 1945, Mr. Neal re-enrolled at Indiana University Bloomington in the spring of 1946 on the G.I. Bill. He roomed in the upstairs of an old house, and worked at a small restaurant downstairs to help pay rent. Mr. Neal graduated with his Bachelor of Science degree on October 15, 1948. On September 23, 1949 Mr. Neal married Betty Louise Oyler and they settled in Brownsburg, Indiana, raising their 5 children: Mary Ann, Janet, Barbara, Nancy, and Steven. Over the course of the next thirty years Mr. Neal served in various sales positions, retiring from Hoosier Coal & Oil in 1979.
He was a member of the Brownsburg Christian Church, the American Legion (Post 331), and the Scottish Rite of Indianapolis. Mr. Neal never lost his love of music. While he no longer played the saxophone in public, he continued to play the organ, piano and keyboard at home. Combining his love of travel with his love of music, Mr. Neal and his wife traveled throughout the United States, following bands that continued to play Big Band and Dixieland music, until his health would no longer permit it. Mr. Neal died on July 23, 2005 at the age of 87.
Each year the Jacobs School of Music is grateful to award the Robert Erland Neal Music Scholarship to undergraduate students at the Jacobs School with preference given to those who are from the state of Indiana, and have served in a branch of the United States military, or currently enrolled in a ROTC program at Indiana University.