Walter and Dorothy Robert Scholarship Fund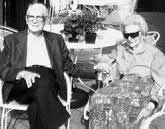 In 1991, Indiana University Professor Emeritus of Music Walter Robert and his wife, Dorothy, were honored by the Indiana Music Teachers Association with awards for lifetime achievement. These were the first such awards given by the organization, which is affiliated with the Music Teachers National Association.
Professor Robert was born in Italy and educated in Vienna, Austria. He joined the IU piano faculty in 1947 and taught courses in the history of piano literature, form analysis, chamber music, and German lieder until his retirement in 1975. He continued to perform, responding to a steady demand for recitals, lectures and workshops, and he taught in Italy, Austria, and Taiwan. After his retirement from the IU Jacobs School of Music, Mr. Robert completed a master's degree in classical studies (Greek). He is proficient in German, Latin, Italian, French, and Russian, and his translation of the Compendium Musicae by Descartes was published by the American Musicological Society. His Musician's Journey Through Keyboard Literature: From Bach to Brahms (Tichenor Publishing, Bloomington, Indiana) is used as a textbook at the University of Kentucky, the University of Florida, and North Texas State University.
Dorothy Hess Robert, Walter's wife, taught piano for 43 years in Bloomington and Bedford, Indiana. Among her former students are pianists and teachers of national reputation. She was also active as an adjudicator. Although an accident has left her blind, she still retains her interest in music.
The Walter and Dorothy Robert Scholarship is awarded annually to deserving students at the Jacobs School of Music.