Mary and Oswald Ragatz Organ Scholarship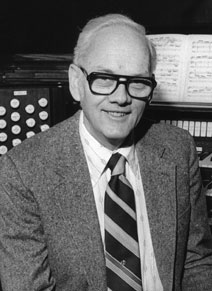 The students of Professor Emeritus Oswald Ragatz created the Mary and Oswald G. Ragatz Organ Scholarship to honor his 45 years of devoted teaching at the Indiana University Jacobs School of Music.
Oswald Gleason Ragatz was born on October 30, 1917, and grew up in Sterling, Colorado, where he graduated high school in 1935 as valedictorian. He received a Bachelor of Arts degree from Denver University, a Master of Arts degree from the Eastman School of Music, and a Doctor of Musical Arts degree from the University of Southern California. Ragatz did additional graduate studies at the Juilliard School of Music and the Union Theological Seminary School of Sacred Music. While in Denver, he also played oboe with the Denver Civic Symphony, and organ at Broadway Baptist Church.
Dr. Ragatz arrived in Bloomington in 1942 as instructor of Organ and Theory. When he retired after 41 years as Chairman of the Organ Department, he had over seventy of his graduates holding teaching positions in higher education institutions. Many of his students also hold respectable positions in churches in the United States as well as abroad.
As a concert artist Ragatz performed in nearly every state in the country as well as in Europe and Asia. He has held organist/choirmaster posts in Rochester, Scarsdale, and Bloomington, including ten years at First Methodist Church and 25 years at First Presbyterian Church.
Dr. Oswald Ragatz is remembered fondly by his numerous students as a mentor who dedicated his life to his students and to organ music. The Mary and Oswald G. Ragatz Organ Scholarship is awarded to Organ and/or Church Music students enrolled at the Jacobs School of Music.