George E. Powell III Scholarship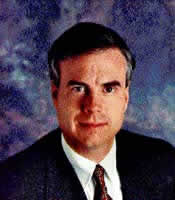 George E. Powell III is the former CEO of Yellow Corporation, the parent company of Yellow Freight System, the nation's largest trucking company. At the age of 47, he left the company to pursue civic and philanthropic interests in his home town of Kansas City, Missouri.
While a student in the Indiana University School of Business between 1966 and 1970, George found time to enjoy concerts, recitals, and other programs featured by the Jacobs School of Music. He also studied percussion as an elective subject. Since graduating in 1970, he has maintained a strong interest in music. Mr. Powell is a past Chairman of the Board of KCPT, Kansas City's public television station, and is currently serving on the Board of Trustees of the Kansas City Symphony. In his spare time, Mr. Powell also enjoys recording music on his computer-controlled electronic keyboard.
In 1996, in response to a request by Mr. Powell, The Kuehn Foundation established the George E. Powell III Scholarship. "I was very fortunate to have had the opportunity to attend Indiana University," said Mr. Powell. "It not only provided me skills with which to earn a living, but also helped further develop my appreciation for the performing arts, an essential ingredient for the enjoyment of life. I am delighted that The Kuehn Foundation will provide deserving students the opportunity to benefit from this wonderful institution."
The George E. Powell III Scholarship is awarded annually to students enrolled at the IU Jacobs School of Music, with preference given to graduates from a Kansas City area high school.