Jackie Pemberton Memorial Scholarship Fund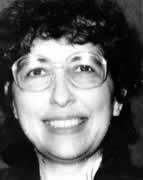 Roger Pemberton established this scholarship in 1986 to honor Jackie Pemberton, his "wife of 26 wonderful years." A native of Evansville, Indiana, Mrs. Pemberton received her bachelor's of music in organ and church music from Indiana University Jacobs School of Music in 1958. She met her husband, who was working on his master's of music at the school, when he gave her a ride back to Evansville. They were married in 1959. While Mr. Pemberton was establishing a successful career as a saxophonist (including tours and recordings with Woody Herman and Maynard Ferguson), Mrs. Pemberton controlled the administrative aspects of his music. In addition to supporting her husband's career, she also began her own jazz publishing company, Central Park Jazz Ltd.
Funds for this scholarship were raised through benefit concerts held at IU and in Chicago titled "To Jackie with Love" and by donations from Mrs. Pemberton's family and friends. The concert at IU featured Roger Pemberton and 35 other jazz musicians including Al Cobine, David Baker, and Dominic Spera.
The Jackie Pemberton Memorial Scholarship is awarded to students majoring in organ at the IU Jacobs School of Music.