Marie Alice and Gilbert Peart Music Education Scholarship Fund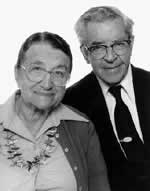 Marie Alice (Charlier) Peart was born and reared in Anderson, Indiana. An only child, she graduated from high school early and cared for her parents from 1927 to 1930. In 1934 she earned her Bachelor's degree from Ball State University. She went on to obtain a Master's degree in education from Indiana University in 1939. Mrs. Peart began her career teaching French and English at junior and senior high schools in Anderson and later in Pendleton, Indiana.
Also born and reared in Anderson, Gilbert Peart received a Bachelor's degree from Ball State University in 1934. He taught high school in Illinois for seven years before returning to Anderson to marry Marie Alice. Enjoying music as a hobby, Mr. Peart became involved in conducting various high school instrumental groups. In 1961 he earned a Doctor of Education degree from Indiana University. After teaching at Anderson High School for 16 years, the couple moved to Fresno, California. For the next 20 years, Mr. Peart taught business courses at Fresno State College and Fresno City College while Mrs. Peart taught French at Clovis High School until her retirement in 1972. Together the Pearts have traveled extensively throughout the world.
Following their life-long devotion to education, Mr. and Mrs. Peart established this scholarship fund at Indiana University in 1985 to assist students pursuing careers in the fields of language or music education. The Marie Alice and Gilbert Peart Scholarship is awarded annually to music education majors at the Jacobs School of Music.