Marcel Mule Scholarship Fund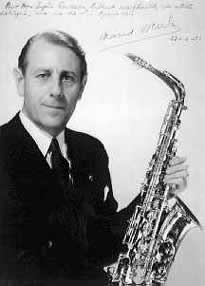 In 1986 Eugene Rousseau established this fund in honor of his teacher, Marcel Mule. Perhaps more than any other person, Professor Mule pioneered the development of the saxophone as a classical medium. In 1942, he became the second professor of saxophone in the history of the Paris Conservatory - the first had been Adolphe Sax himself, inventor of the instrument, 72 years before. When Professor Mule retired from his dual career as artist and professor in 1968, there was virtually no performer or teacher of the classical saxophone in the world who had not in some way been influenced by him.
The Marcel Mule Scholarship benefits deserving students majoring in classical saxophone at Indiana University. Eugene Rousseau has published a biography of his mentor, Marcel Mule: His Life and the Saxophone. Royalties from the sale of this book go directly into the Marcel Mule Scholarship Fund.