Nathan A. and Margaret Culver Miller Scholarship Fund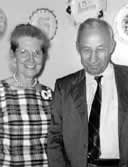 Margaret Culver Miller was born in 1904 in Clinton County, Indiana. She graduated from Washington Township High School in 1923 and went on to study for three years at the John Herron School of Art in Indianapolis. In 1931 she earned a Bachelor of Science degree in Education from Indiana University, and in 1929 was among the first group of IU Jacobs School of Music students to study abroad in Munich, Germany. An accomplished pianist, Mrs. Miller taught music and art at Jefferson Elementary and High Schools from 1927 to 1937. In 1937 she became an instructor in the art and design department in the School of Home Economics at Purdue University. She received a Master of Arts degree from Columbia University in 1941. In 1943 Mrs. Miller retired from teaching and married Nathan A. Miller (1897-1975). Born in Canal Fulton, Ohio, Nathan Miller attended Cornell Law School and the University of Texas. He was first employed by Sinclair Refining Company in Akron, Ohio, and later retired from the Sohio Oil Company (Standard Oil). The Millers lived on the Culver family farm, "The Locusts," near Frankfort, Indiana. Mr. Miller passed away in 1975, and Mrs. Miller continued sharing her love of music until her death in 1993.
Established by bequest from the estate of Margaret Culver Miller, this scholarship is awarded annually to voice students at IU Jacobs School of Music.