Lucie M. Kohlmeier Music Scholarship in Voice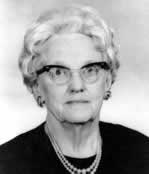 Lucie Mayhall Kohlmeier was born in 1891 in Oakland City, Indiana. After graduating from high school in 1909, she married Albert L. Kohlmeier. The couple moved to Boston, where Mrs. Kohlmeier studied voice for two years at the New England Conservatory while Mr. Kohlmeier earned two degrees from Harvard. In 1911 Professor Kohlmeier was invited to join the Indiana University faculty as a history instructor. He became recognized as one of IU's great professors and a widely known speaker. When he retired as a professor emeritus of history in 1953, he had been a member of the faculty for 41 years and chairman of the department of history for 22 of those years. Mrs. Kohlmeier became a mainstay in the Bloomington community, where she directed choirs for 25 years and sang in many IU oratorios and for the soldiers during World War II. An active participant in numerous social and cultural affairs, Mrs. Kohlmeier was former president of the Faculty Women's Club and a member of the First Presbyterian Church of Bloomington.
At the time of her death in 1977, Mrs. Kohlmeier willed one-third of her estate to IU Jacobs School of Music to establish the Lucie M. Kohlmeier Music Scholarship in Voice. It is awarded annually to female voice students of good moral character and scholastic ability who are also residents of Indiana.