Mack H. Kay Scholarship for Excellence in Jazz Composition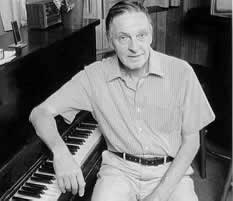 Mack H. Kay was the professional name of Mack Kay Higginbotham, a songwriter who flourished in the heyday of Tin Pan Alley and whose music was later revived in movies and television. His most popular hits included the 1941 recording by Horace Heidt of Good-Bye Dear, I'll Be Back in a Year (which was used in the soundtracks for the films "Biloxi Blues" and "Shining Through"), and Nothing's Too Good For My Baby (which became a hit for Louie Prima and Keely Smith in the 1950s). Mr. Kay was raised in Chicago, and his family moved to Anderson, Indiana at the onset of the Great Depression. In 1938, he won the Benny Davis Songwriting Contest at the Lyric Theater in Indianapolis, and later moved to New York City, where his career as a songwriter included over 60 published songs and over 50 recordings of his works. He pursued a banking career in New York, where he headed the consignment section of a trust company until 1978 when he retired. Mr. Kay continued composing until his death in August, 1995 at the age of 82.
His widow, Jeanne, established this fund in 1996 with the hope of encouraging promising young jazz composers to follow their dreams and as a tribute to her late husband, whose love of music inspired all who knew him.