Josef Gingold Violin Scholarship Fund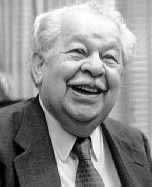 Established in 1986 by the Dorothy Richard Starling Foundation of Houston, Texas, this fund serves not only to honor the amazing talents of Distinguished Professor Josef Gingold, but also to support outstanding violin instruction at Indiana University Jacobs School of Music.
Josef Gingold was born October 28, 1909 in Brest-Litovsk, Russia and started playing the violin at the age of three. Before coming to the United States in 1920, the Gingold family was incarcerated in a German internment camp during World War I. Nevertheless, Professor Gingold always spoke with optimism and cheerfulness when discussing his difficult early years.
He studied in New York with Vladimir Graffman and in Belgium (1927-29) with the legendary Eugene Ysaye, playing many concerts in Belgium, Holland, and France. Returning to the U.S. in the midst of the Great Depression, he supported his family by playing Broadway shows and performing other commercial work in New York. In 1934, he married violinist Gladys Anderson. In 1937, he became a charter member of the NBC Symphony under the direction of Arturo Toscanini. He remained there for seven years before becoming the concertmaster for the Detroit Symphony. In 1947, he joined the Cleveland Orchestra at the invitation of the great conductor George Szell.
During his 13 years as concertmaster in Cleveland, the orchestra developed from a fine ensemble into one of the best orchestras in the world. In 1960 he came to Indiana University where he taught until his death in 1995. Although the recipient of many worldwide honors and awards, Professor Gingold never considered anything as important as the time he spent with students. He shared his extraordinary gifts in the most generous manner, and his accomplishments and those of his students are known the across the world.
The Josef Gingold Scholarship is awarded annually to talented violin students at IU Jacobs School of Music.