Wilma Jensen Organ Scholarship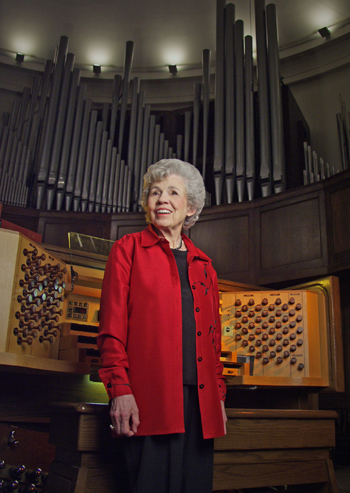 James F. Mellichamp, a Doctoral graduate of the Jacobs School in 1982, established the Wilma Jensen Organ Scholarship in honor of his dear friend, teacher, and retired member of the Jacobs School of Music faculty, Wilma Jensen. Before receiving his doctorate, Mellichamp received his Bachelor of Music from Huntingdon College in Montgomery, Alabama, and was a recipient of an international organ scholarship at the Hochschule für Musik in Herford, Germany. His performance career as an organist spans forty years with appearances throughout the U.S., Canada, and Europe. He has performed in the Washington Cathedral, Berlin Cathedral, and the Cathedral of Notre Dame in Paris.
Currently, Mellichamp serves as the 13th President of Piedmont College, a private liberal-arts institution in Demorest and Athens, Georgia. At Piedmont, he previously served as Department Chair, Dean of the School of Arts and Sciences, Vice President for Academic Affairs, and Provost. He continues his teaching on the organ as a Professor of Music at Piedmont where he began his teaching in 1982. Through the Wilma Jensen Organ Scholarship, Mellichamp wishes to assist the Jacobs School in recruiting the best and most promising Organ students.
Wilma Jensen was a tenured Professor of Organ at the Jacobs School of Music from 1977-1981, where she shared her extraordinary skill and passion for music with her students. Jensen earned her Bachelor and Master of Music degrees from the Eastman School of Music in Rochester, NY, where she was taught by Catharine Crozier and Harold Gleason. At Eastman, she was awarded the prestigious Performer's Certificate in Organ. Jensen received an Honorary Doctorate from Piedmont College in May 2004. As a teacher and professor, Jensen has served on the faculties of Oklahoma City University, the Blair School of Music of Vanderbilt University, Scarritt Graduate School, and the Jacobs School of Music at Indiana University.
Jensen has focused her career in three directions—Church Music, Teaching, and Performing. She is now Choirmaster/Organist Emerita of St. George's Episcopal Church in Nashville Tennessee, and has built its choir to a level where they were invited to sing at the National Convention of the American Choral Directors Association, as well as tour in Europe. She has also resumed her concert career, conducting Choral and Organ workshops and masterclasses at Juilliard, Curtis, and Eastman, as well as performing recitals throughout the country.
The Wilma Jensen Organ Scholarship is awarded to undergraduate and graduate students studying Organ at the Jacobs School of Music.