Dorothy L. Herriman Scholarship Fund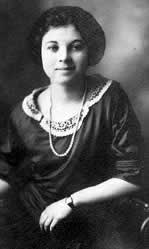 Dorothy Lyons Herriman was born near Brook, Indiana on June 28, 1902. She was educated in Brook and attended business college in Indianapolis. She married E. M. Costin in the 1930s and for over 40 years lived in a restored home located on several hundred acres near Plainfield, Indiana. Her home was filled with her collection of antique oriental carpets, furniture, and books. She later married Claude M. Herriman. Throughout her life she enjoyed classical music of all kinds. She attended early performances at the Indiana University Auditorium, including the touring company productions of the Metropolitan Opera. It is possible that these performances led to her interest in and her gift to IU Jacobs School of Music. She died March 18, 1982.
The Dorothy L. Herriman Scholarship is awarded annually to worthy students at IU Jacobs School of Music.