Bill and Mary Gasser Scholarship/Fellowship Endowment Fund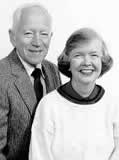 Indiana University alumni Wilbert W. "Bill" Gasser, Jr. and Mary Kratz Gasser established this fund in 1996 because of their deep appreciation for the Indiana University Jacobs School of Music. In particular, it is a tribute to their fondness of the Singing Hoosiers and IU's big band productions. Graduates of the IU Bloomington campus, Mr. Gasser received a Bachelor of Science degree in Business in 1948 and Mrs. Gasser earned a Bachelor of Science degree in Elementary Education in 1950. Mr. Gasser pursued a career in banking. The Gassers are both lifetime members of the IU Alumni Association. Together they have served on a number of committees and been recognized for their faithful support of Indiana University over the years. Their IU affiliations include the Presidents Circle, Well House Society, IU Varsity Club, Twelfth Man Club, IU Northwest Advisory Board, IU President's Council, Phi Kappa Psi fraternity, Kappa Alpha Theta sorority, and the IU Alumni Association Board of Managers (of which Mrs. Gasser has served as secretary). Committed to the educational goals of Indiana University, they have established the Kratz Graduate Fellowship in the department of chemistry as well as a scholarship/fellowship in banking and finance at the School of Business.
The Bill and Mary Gasser Scholarship/Fellowship in Music is awarded annually to graduate or undergraduate students who are U.S. citizens enrolled at the Jacobs School of Music.