William and Marcia Fox Scholarship Fund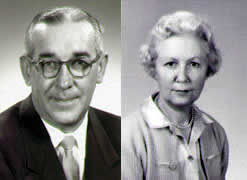 (est. 1996) William Fox and Martha McEwen met during the roaring twenties at Indiana University where they were enrolled as music majors. Both came from pioneer Indiana families: Bill was born in 1906 in Bicknell and Marcia in 1907 in Alexandria. A violin prodigy who matriculated at age fifteen, Bill had been on the local musical scene long before Marcia arrived on campus. He performed at the Princess Theater in downtown Bloomington and led the Crimson Serenaders orchestra - a competitor of Hoagy Carmichael. Bill also served as musical director of the popular campus musical production, the Jordan River Review in which Marcia danced in the Pony Chorus. She left before completing her degree to teach music in the public schools until their marriage in 1930, the year Bill received his master's degree in music composition. The newlyweds lived in Indianapolis where Bill taught at Indiana Central College (now the University of Indianapolis). Both became members of the newly formed Indianapolis Symphony Orchestra. In 1933 they moved to Murray, Kentucky where Bill served as band master, violin professor, and conductor at the college and Martha completed her degree. The Fox family, now expanded to four, returned to Bloomington in 1942 when Bill began work on his Ph.D. in psychology and educational administration. He later joined the faculty of the School of Education. A close friendship with Dean Bain led to his assistance in setting up the doctoral program in the School of Music. Shortly after returning from the IU Thailand program in the summer of 1958, Professor Fox suffered a fatal stroke and Marcia then accepted a teaching position at the University School. She earned a master's degree in music education and became head of the music department, working closely with IU Jacobs School of Music supervising student teachers and providing children for roles in IU opera productions. She continued her career as a music educator until her marriage to John Hoadley in 1969.
The William and Marcia Fox Scholarship was established in 1996 by their daughter and son-in-law, Sue and Murray Robinson. The scholarship is awarded annually to a music student who shows particular promise in performance or pedagogy.