Eleanor Fell Scholarship Fund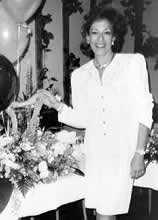 This fund was established in 1986 by Eleanor Fell to assist talented harp majors studying at Indiana University. Ms. Fell grew up in Bloomington, Indiana, and graduated from IU Jacobs School of Music with a major in harp in 1965. She has performed with orchestras across the United States, including the Santa Fe Opera. Ms. Fell pioneered the field of popular harp performance, performing for many years in prestigious hotels and restaurants in New York City (including the Rainbow Room), as well as other locations throughout the world. In addition to several recordings, she has published many popular arrangements, and she often presents master classes on popular harp performance. Ms. Fell is a past board member of the IU Jacobs School of Music Alumni Association and the World Harp Congress. She and her husband own Vanderbilt Music, one of three companies in the country to specialize in harps, harp music, strings and accessories.
The Eleanor Fell Scholarship is given annually to harp majors and is awarded on the basis of achievement in the field of harp performance, general academic achievement, and need.