Ruth L. Elias Scholarship Fund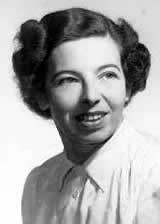 Ruth L. Elias was born January 29, 1912 in St. Gallen, Switzerland. She lived in Prague, Czechoslovakia, until her marriage to Henry Elias, a Viennese lawyer and judge. At the outset of World War II in 1939, the Elias' immigrated to the United States just before Hitler closed the borders to occupied Austria. Because his law degree was not recognized as being valid in the U.S., Mr. Elias was obliged to do manual labor, and Mrs. Elias found employment as a seamstress while they lived in New York City.
When the U.S. entered WWII, Mr. Elias enlisted. At the end of the war he served at the Nuremberg trials as an interpreter for the attorneys. After his discharge in 1952, Mr. Elias was accepted to the Indiana University School of Law. Upon completion of his law degree he went to work as corporate counsel for American Fletcher Bank in Indianapolis and steadily advanced to become general counsel.
The Elias' were very fond of classical music, attending the symphony every Friday night. At the time of her death in 1974, Mrs. Elias established a scholarship fund at the Indiana University Jacobs School of Music to support and encourage music students for generations into the future.
The Ruth L. Elias Scholarship is awarded annually to students enrolled at IU Jacobs School of Music.