Frederick Ebbs Memorial Scholarship Fund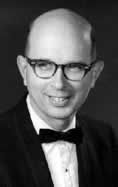 This scholarship fund was established in 1984 as a memorial to one of the nation's leading band directors, Frederick C. Ebbs. From 1967 to 1982, Ebbs was director of bands at Indiana University. During his tenure at IU, he directed eight different bands, including the Marching Hundred and the Symphonic Band.
Mr. Ebbs' teaching and conducting positions also included the famous Hobart, Indiana high school band, Baldwin Wallace College in Berea, Ohio and the University of Iowa. One of the highlights of his illustrious career was conducting the Symphonic Band on a three-month concert tour of Europe. The band's concerts won high praise from music critics in Portugal, Spain, and the former Soviet Union.
Mr. Ebbs took two trips to the Rose Bowl with the University of Iowa and the Indiana Marching Hundred in 1967. In 1987 Professor Ebbs was posthumously inducted into the National Band Association Hall of Fame of Distinguished Conductors.
He is one of only 30 conductors to be named to the Hall of Fame, the ranks of which include John Philip Sousa; Edwin Franko Goldman, founder of the American Bandmasters Association; and Mark Hindsley, Indiana University graduate and director emeritus at the University of Illinois.
Ebbs is remembered for his devotion to his students and his dedication to his craft. Ray Cramer, director of bands at Indiana University, described him as "one of the founding fathers of the American band movement."
The Frederick Ebbs Memorial Fund provides scholarships in the Indiana University Jacobs School of Music, with preference given to undergraduate music education majors who have the potential of becoming outstanding band directors.