Emma E. Claus Scholarship Fund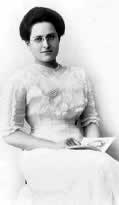 (est. 1994) The daughter of Reverend E. Theodore and Anna (Meyer) Claus, Emma E. Claus was born January 30, 1892 in Elkhart, Indiana. She had two sisters, Luella and Gertrude, and a brother, Reverend H. C. Claus. Her parents were scholarly and intelligent and, according to the traditions of the era, they ensured that their son was well-educated in classics and theology. They directed their daughters toward home-making and music, and both Gertrude and Luella became excellent pianists. Miss Claus also studied piano and sang privately; however, she developed an independent interest in law and business. When the family moved to Hammond, Indiana, she was offered a job at Banker's Trust Company of nearby Gary where she advanced to the rank of vice president and treasurer by the time of her retirement in 1954. Miss Claus served as national president of the National Association of Bank Women from 1940-42, prior to which she was regional president of the Lake Division of this association. She became great friends with Gertrude Greenwald, who served as secretary of both of these associations while Emma was in office. The two shared a keen interest in the arts.
Through a bequest in 1994, Gertrude Greenwald established the Emma E. Claus Scholarship Fund at Indiana University. The scholarship is awarded to any meritorious student at the IU Jacobs School of Music.