The Camerata Scholarship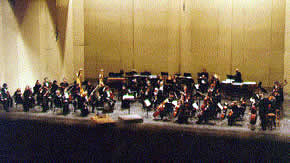 Founded in 1989 by concertmaster Lenore Hatfield, the Camerata Orchestra of Bloomington, Indiana, presents an orchestral series comprised of Indiana University faculty, retired faculty, and community members. To complete the roster, music students are offered the opportunity to work alongside highly experienced musicians in a professional setting. Each year, the Camerata Orchestra performs a benefit concert commemorating an individual who has made outstanding contributions to the music field.
Honorees for these concerts have been Chancellor Herman B. Wells, former IU Jacobs School of Music Dean Wilfred C. Bain, Distinguished Professors Josef Gingold, Janos Starker, and György Sebők. This concert also benefits the general scholarship fund of the IU Jacobs School of Music. The Camerata Scholars, who are outstanding orchestral students, are selected each year by the Camerata.
In addition to offering the concert series and support for students through honoraria, scholarships, and competition prizes, the Camerata commissions a work by an American composer each season. Compsoers David Baker, Bernhard Heiden, David Dzubay, Juan Orrego-Salas, and David Ott have each written works for the Camerata to premiere.
The Camerata Scholarship was established in 1990 and continues to award orchestral students to this day.