Vivian N. Humphreys Bundy Scholarship Fund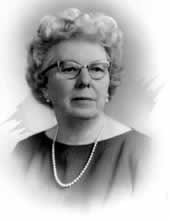 (est. 1996) Vivian N. Humphreys Bundy was born March 16, 1897 in Linton, Indiana. She studied voice and piano at Illinois State University and later taught voice, piano, and organ lessons. Throughout her lifetime she shared her love for music with her community, serving as organist, pianist, or choir director at various churches while she resided in Linton and later in Cleveland, Ohio. Mrs. Bundy had a beautiful voice and sang in many concerts. She loved opera and attended many of the performances that came to Bloomington and Cleveland. She was extremely interested in developing talent in promising music students until her death in 1985. Her sister, Adria Humphreys, shared her love of music and knew that Mrs. Bundy would want to help students interested in the performing arts.
Through a bequest in 1996, Adria Humphreys established the Vivian N. Humphreys Bundy Scholarship Fund in memory of her sister. Scholarships are awarded annually to deserving students at the IU Jacobs School of Music.