John E. Best Scholarship Fund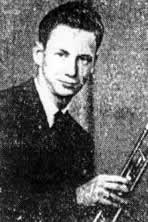 (est. 1947) Born in Winchester, Indiana in 1925, John E. Best lost his life March 31, 1945 at Halle, Germany, in the service of his country during World War II. Known as the "man with the horn" by his many friends, John Best played the trumpet and gained considerable fame in Winchester and the surrounding area for his musical talent. He graduated from Winchester High School in 1943 and worked with his father in the grocery business.
John entered the armed forces with the rank of private first class on January 11, 1944 and received his military training at Camp Croft, South Carolina; Camp Shelby, Mississippi; and Camp Atterbury. He went overseas in November of 1944 and was among the hundreds of Allied soldiers captured in the Battle of the Bulge. Mr. and Mrs. Walter E. Best were notified January 16, 1945 that their son was reported missing in action, and on March 7 they received a letter from him written from a prisoner of war camp in Germany. When John did not return to the U.S. at the conclusion of the war, Mr. and Mrs. Best went to Germany to find their son. After several months of searching in devastated post-war Germany, they were unsuccessful in locating his body. The Bests never completely gave up hope of his return.
Mr. and Mrs. Best established the John E. Best Scholarship Fund in 1947 in memory of their son, who "never had a chance to go to college." Scholarships are granted annually to graduates of Winchester High School having an above average record of scholarship, school activities, leadership, and character. The purpose of the scholarship is to aid students who select music as a profession, either as a teacher or as a professional musician.