Agnes Davis Richardson Memorial Scholarship Fund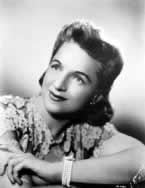 Born May 11, 1905 in Colorado Springs, Colorado, Agnes Davis Richardson was the daughter of Colonel William A. and Mrs. Lula (Goodwell) Davis. She graduated from the Colorado State Teachers' College, attended the Lamon School of Music in Denver, and in 1934 received a Bachelor of Music degree from the Curtis Institute of Music in Philadelphia. Mrs. Richardson sang professionally under the management of Columbia Concerts for 15 years and taught at the Philadelphia Conservatory of Music. An experienced Metropolitan Opera soprano, she was also winner of the first Atwater-Kent radio contest. Throughout her illustrious career, Mrs. Richardson sang at major music festivals in the U.S. and abroad, made a number of recordings, and soloed with leading orchestra companies. In 1942, she interrupted her professional career for over three years to devote herself to war work. Under the auspices of the USO Camp Shows, she sang for servicemen throughout the world. In 1950, Mrs. Richardson joined the Indiana University faculty, and in 1959 she married Herbert James Richardson. She continued her career as professor of music at IU until her death in October of 1967.
Established in 1968 by Mildred Yeagle, the Agnes Davis Richardson Memorial Scholarship is awarded annually to voice students at IU Jacobs School of Music.