Michael L. Schwartzkopf Singing Hoosiers Fund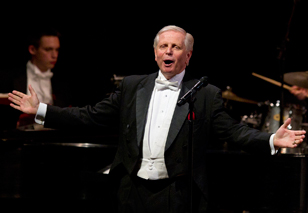 Dr. Michael Schwartzkopf served as director of the award winning Indiana University Singing Hoosiers for 17 years. He has served as an adjudicator, lecturer, clinician, and festival conductor, as well as having conducted choirs throughout the United States, Europe, and Canada.
Schwartzkopf has performed in theaters, concert stages, and cathedrals of Europe and United States in a wide variety of styles ranging from popular music, musical theater, and classical music. He joined the Jacobs faculty in 1995, was a member of the Alliance of Distinguished Rank Professors at Indiana University and held the Pam and Jack Burks Professorship in Music. He received the Singing Hoosiers Distinguished Alumni Award in 1993.
On the night of his final Singing Hoosiers concert in 2012, Schwartzkopf was awarded with the Distinguished Service Medal given by President McRobbie.
Schwartzkopf's philosophy of music is reflected in his diverse involvement and activity in the areas of performance, conducting, teaching, and administration. The Singing Hoosiers, benefitting from Schwartzkopf's expertise in these areas, perform around the world and annually in Bloomington during their Chimes of Christmas and Annual Spring Concert performances.
The Michael L. Schwartzkopf Singing Hoosiers Fund is used for the general support and enhancement of the Indiana University Singing Hoosiers.