Ethel Louise Lyman Memorial Fund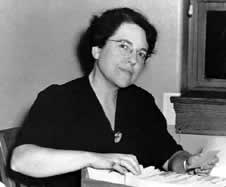 Ethel Louise Lyman was born in Northampton, Massachusetts in 1893. After graduating from Northampton High School in 1912, Lyman took a post-graduate course, specializing in French and German. A year later, she traveled to Europe, studying art history, in addition to French, German, and Italian. She started her first professional career in 1914 as reference and assistant librarian at the circulation desk at the Clarke Library in Northampton. Northampton has a considerable history for libraries as well as music collections. She later worked at the other public library in town called the Forbes Library, where she was appointed as head of the Fine Arts Department, cataloguing all music materials, creating and maintaining song indexes, mounting exhibits, and maintining close relationships with local musical clubs and organizations.
Her career as a librarian at an education institution began in 1922 at Smith College as the first music librarian at the college. While working at Smith, Lyman enrolled in library science courses at Simmons College in Boston, while also working in the music divisions of Harvard's Widener Library, the Boston Public Library, the Brookline Public Library, and the New England Conservatory of Music Library. In 1936, Lyman took a one-year sabbatical to conduct a survey of 53 music libraries between Washington, D.C. and Oberlin, Ohio. In 1937, she traveled to Europe to study the collections at the Bibliothèque nationale de France, the Opéra in Paris, the Musiksammlung of the Österreichische Nationalbiblithek in Vienna, and the Bibliotheca Mozartiana at the Mozarteum in Salzburg. When she returned to the U.S., she resigned from her position at Smith in order to continue her research that she had started in 1936.
Ethel Louise Lyman joined the staff of Indiana University Jacobs School of Music in the summer of 1939 as the first full-time music librarian. Under Lyman's leadership, the IU music collection grew quickly. Three years after Lyman began her position, the IU music library held 6,915 books, 9,880 musical scores, and 2,920 sound recordings. In 1953, the IU music library was asked to contribute to the International Inventory of Musical Sources (RISM). In addition to building the library's collections, Lyman prepared the library for visitors and musicians. Between 1946 and 1960, the Metropolitan Opera Company of New York gave annual performances at the IU Auditorium. During their visits, soloists of the company would often visit the library. For these visitors, Lyman would organize displays that consisted of libretti, plots of the operas, photographs, scores, and recordings. Other visitors to the Music Library included Georges Enesco, Ralph Vaughan Williams, members of the Danish National Symphony Orchestra, and Tibor Kozma.
Lyman retired in 1959, and shortly thereafter, was asked to serve as a consultant to the music library at the Southern Baptist Theological Seminary in Louisville, Kentucky. Although she made frequent trips to Louisville, she continued to live in Bloomington until relocating to Martinsville to live in a nursing home in 1974. At the time of her death in 1976, Lyman willed her Steinway grand piano and one-fifth of her estate to establish the Ethel Louise Lyman Memorial Fund to be used for the acquisition of musical scores. Not only was Lyman a gifted librarian, she was also a capable soprano, singing at many IU events. According to Charles Webb, then dean of the Jacobs School of Music, "Her desire to perpetuate high quality library facilities long into the future resulted in a sizable bequest to purchase unusual and rare colelctions of music and books. Over the years it has really made a difference in the quality and caliber of the IU School of Music library collections."