The Guillermo Espinosa Endowment Fund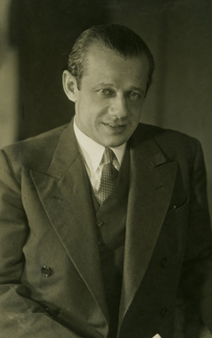 The Guillermo Espinosa Endowment Fund was established in memory of Guillermo Espinosa to encourage educational and cultural exchanges between the Americas (U.S., Mexico, Central America, and South America). These exchanges illustrate the universality and pluralism of the musical arts that enrich our understanding and appreciation of our cultural heritage. Established in 2007, the Guillermo Espinosa Endowment Fund provides support for leading music scholars, educators, performers, and composers from the Americas to participate in exchange programs to include conferences, competitions, music performances, commissions, musicology studies, and scholarships for performance and composition students.
Guillermo Espinosa (1905-1990) was a musician and conductor who was central to the development and promotion of Latin American music with exchanges between musicians of the Americas. His studies took him to the Conservatory Giuseppe Verdi in Milano, Italy, the Hochschule für Musik in Berlin, and Switzerland. In 1932, Espinosa began a Latin American tour through Venezuela, Puerto Rico, and Colombia, his native country. Throughout this decade, Espinosa fostered relationships with Latin American composers and musicians, and eventually promoted the idea of an Inter-American Music Festival in the 1940's. These Inter-American Music Festivals eventually became a reality and were organized in Washington, D.C. between 1958 until his retirement in 1975.
The Latin American Music Center at the Jacobs School holds an extensive Espinosa Collection, which includes scores, books, recordings, letters, concert programs, pictures, and promotional clippings, to celebrate this important figure of Latin American music of the 20th century. The Guillermo Espinosa Endowment Fund continues Espinosa's efforts in promoting Latin American music for deeper appreciation and understanding of the cultural heritage of the Americas.