The Presser Foundation Scholarship and the Presser Music Award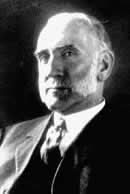 Theodore Presser is remembered as the publisher of the music magazine étude and as the founder of the great music publishing firm bearing his name. He is also remembered as a philanthropist dedicated to music education. Mr. Presser began his musical career as a clerk in C.C. Mellor's music store. Impressed by the boy's personality, Mr. Mellor made him a music clerk and eventually manager of the sheet music department.
After studying at New England Conservatory, Mr. Presser saved enough money to attend the Leipzig Conservatory in Austria for two years. Upon his return from Europe, he became director of music at Hollins College for Women in Lynchburg, Virginia. It was there, in 1883, with only $250 to back him, that he began publication of étude. The magazine became sensationally successful almost immediately. Mr. Presser eventually became a music dealer-publisher, and the music company which bears his name has steadily grown in stature ever since.
Despite his success, Mr. Presser did not forget his struggles as a music teacher or the very real problems that confronted the members of his profession. Since Presser's death in 1925 at age 77, the Presser Foundation has faithfully carried out his benevolent objectives. The Foundation selected Indiana University for its outstanding reputation in the field of music education.
Funded by the Presser Foundation, the Presser Scholar and the Presser Music Award are presented annually to undergraduate and graduate music majors at the Jacobs School of Music.