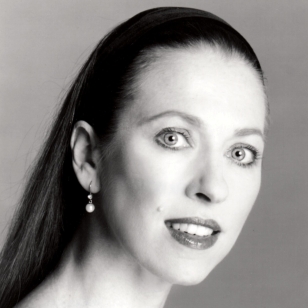 View full resolution
Phone:

812-855-3178

Email:

kyragray@iu.edu
Department:

Ballet
Musical Arts Center, MC328

Biography
Kyra Nichols is Violette Verdy and Kathy Ziliak Anderson Chair in Ballet and professor of music in ballet at the Indiana University Jacobs School of Music.
She began her early training in Berkeley, California, with her mother, Sally Streets, a former member of New York City Ballet (NYCB). By age 13, Nichols started spending her summers in New York at the School of American Ballet. She performed with Alan Howard's San Francisco-based Pacific Ballet before moving to New York full time when she was 15 years old.
Nichols became an apprentice to NYCB in 1974 and quickly became a member of the corps de ballet. She was promoted to soloist in 1978 and in 1979 was promoted by George Balanchine to principal dancer. Her early years in the company were enlivened by the presence of Balanchine and Jerome Robbins, both of whom were choreographing on the company. She danced numerous leading roles in the company repertory, ranging from pyrotechnic displays of bravura skill in ballets such as "Tschaikovsky Piano Concerto Number 2" and "Stars and Stripes" to more lyrical and dramatic roles such as those in "Liebeslieder Walzer" and Robert Schumann's "Davidsbündlertänze."
In addition to her work with Balanchine and Robbins, Nichols has worked with an extensive list of choreographers, including William Forsythe, Susan Stroman, Christopher Wheeldon, Peter Martins, Jacques D'Amboise, Robert La Fosse, and Robert Garland.
During her performing career, Nichols toured extensively. In 1981, she joined a small group led by Robbins that performed in mainland China as part of a U.S. Information Agency effort to bring American culture to China. She has performed all over the world, including in Great Britain, Japan, France, Denmark, Germany, Hungary, Israel, and Italy. She appeared as a guest artist in various productions, including Franco Zeffirelli's "La Traviata" at the Metropolitan Opera. By special invitation, she performed in Cuba as a guest of Alicia Alonso. With NYCB dancer Gen Horiuchi, Nichols led a group of dancers for a three-week series of performances in Tokyo. Her touring included sites all over the United States, from high school gymnasiums in Alabama to the Kennedy Center in Washington, D.C.
Nichols appeared on national television in Balanchine's "Vienna Waltzes" in A Lincoln Center Special: A New York City Ballet Tribute to George Balanchine, in Balanchine's "Serenade" for a Dance in America program, and in Peter Martins' "Beethoven Romance" for the Dance in America program Ballerinas, Dances by Peter Martins. She also appeared in the twentieth-anniversary broadcast of the PBS series Great Performances, in Martins' "Not My Girl." She danced the featured role of Dewdrop in the film version of George Balanchine's The Nutcracker, released in November 1993 by Warner Brothers.
Nichols retired from New York City Ballet in June 2007, after 33 years with the company, the longest-serving ballerina in the company's history. Since retiring from NYCB, she has been teaching and setting ballets. In 2015, she became a ballet mistress with Pennsylvania Ballet.