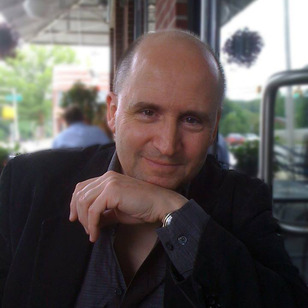 View full resolution
Phone:

812-855-8218

Email:

enaoumof@indiana.edu
Department:

Piano
Merrill Hall, MU004D

Education
Premier Prix, Paris Conservatory, 1978
Biography
Emile Naoumoff is professor of music in piano at the Indiana University Jacobs School of Music, where he has been on faculty since 1998.
He has been likened to both Vladimir Horowitz and Arthur Rubinstein as a pianist, displaying, as one critic remarked, the fire of the former and the poetry of the latter. He revealed himself as a musical prodigy at age five, playing the piano and adding composition to his studies a year later. At the age of seven, after a fateful meeting in Paris, he became the last disciple of Nadia Boulanger, who referred to him as "The gift of my old age." At age 18, he was signed as a composer by music publisher Schott, Mainz, the youngest on its roster.
Naoumoff studied with Boulanger until her death in late 1979. During this auspicious apprenticeship, she gave him the opportunity to work with Clifford Curzon, Igor Markevitch, Robert and Gaby Casadesus, Nikita Magaloff, Jean Francaix, Leonard Bernstein, Soulima Stravinsky, Aram Khachaturian, and Yehudi Menuhin.
Menuhin conducted the premiere of Naoumoff's first piano concerto, with him as soloist, when the pianist/composer was 10 years old. At the same time, Naoumoff pursued studies at the Paris Conservatory with Lelia Gousseau, Pierre Sancan, and Genevieve Joy-Dutilleux, as well as at the Ecole Normale de Musique de Paris with Pierre Dervaux (conducting).
Upon Boulanger's death, he assumed her classes at the summer sessions of the Conservatoire d'Art Americain in Fontainebleau. He was later appointed at the Conservatoire National Supérieur de Musique, Paris.
Naoumoff is regularly invited to perform by the world's premier orchestras, including the Los Angeles Philharmonic, Berlin Symphony, Vienna Symphony, San Francisco Symphony, National Symphony, Moscow Symphony, NHK Symphony, Residentie Orkest of the Hague, Orchestre Philharmonique de Radio-France, and Camerata Bern.
He has worked closely with conductors such as Leonard Bernstein, Igor Markevitch, Leonard Slatkin, Mstislav Rostropovich, and Eliahu Inbal. He has also collaborated with musicians including Jean-Pierre Rampal, Gerard Souzay, Yo-Yo Ma, Gary Hoffman, Olivier Charlier, Patrice Fontanarosa, Regis Pasquier, Philippe Graffin, Philippe Bernold, Gerard Caussé, Jean Ferrandis, Dominique de Williencourt, and the Fine Arts Quartet.
Some highlights of his performing career include a performance of the Grieg Concerto with the Los Angeles Philharmonic at the Hollywood Bowl and his own piano concerto version of Mussorgsky's Pictures at an Exhibition with the National Symphony Orchestra at the Kennedy Center in Washington, D.C., under the baton of Mstislav Rostropovich.
Naoumoff has been invited to perform at numerous music festivals, such as the San Francisco Friends of Chamber Music's Menuhin Seminars, Santander Summer Masterclasses, Verbier Academy Festival, Banff Center, and residencies at the Conservatory of Barcelona (ESMUC). In 1996, he opened his own summer academy at the Château de Rangiport in Gargenville, France, in the spirit of Boulanger.
He is an avid composer of French mélodies and is known for his mastery in transcribing music for the piano. He maintains a video journal of daily improvisations on his YouTube channel.